November 8, 2023
Transforming Our Home's Exterior: A Remodeling Journey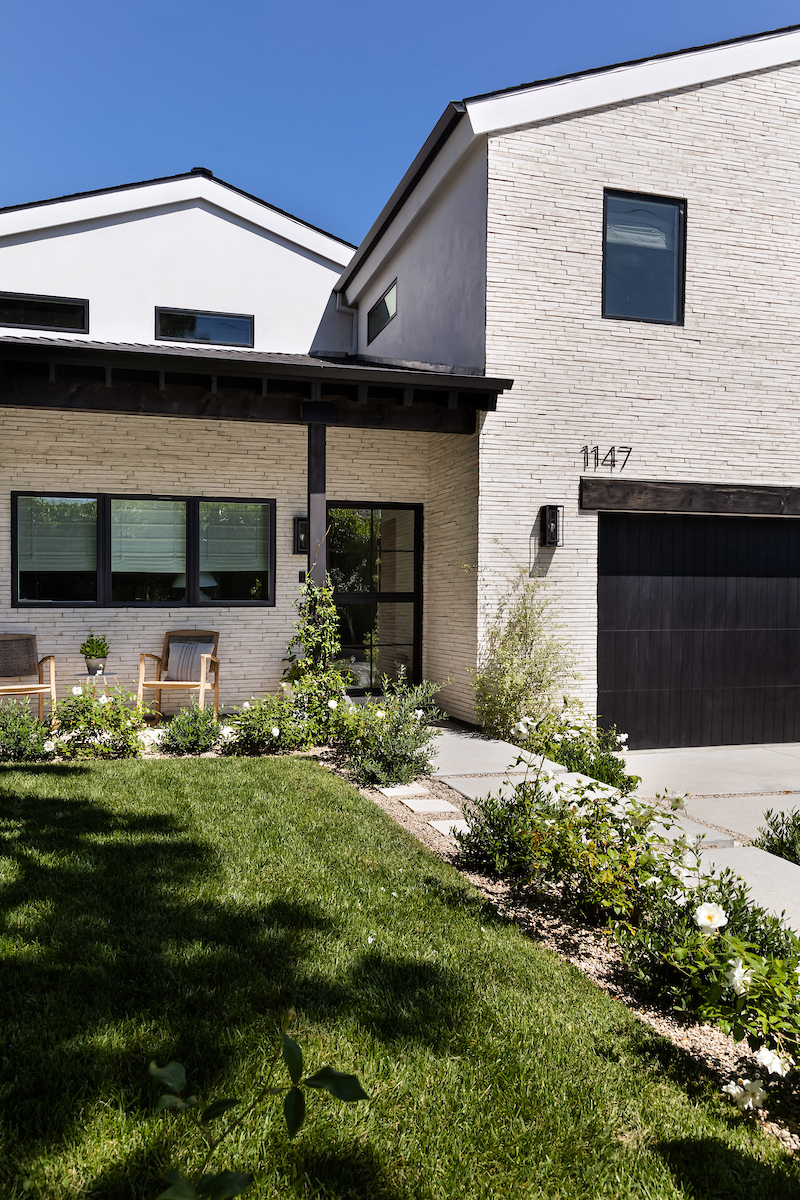 The exterior of a house is often the first impression it makes on visitors and passersby.  It sets the tone for what lies inside.  In our quest to create a welcoming and  "organic modern" exterior for our home, we embarked on what felt like one million decisions.  Stucco, windows, roofing, tile, landscaping, and the list goes on!  In doing so, we have completely transformed our house into a place we're proud to call home.  Here is the story of our exterior home remodel.
It started like this.  We bought the least expensive house on the market in our coveted neighborhood/community.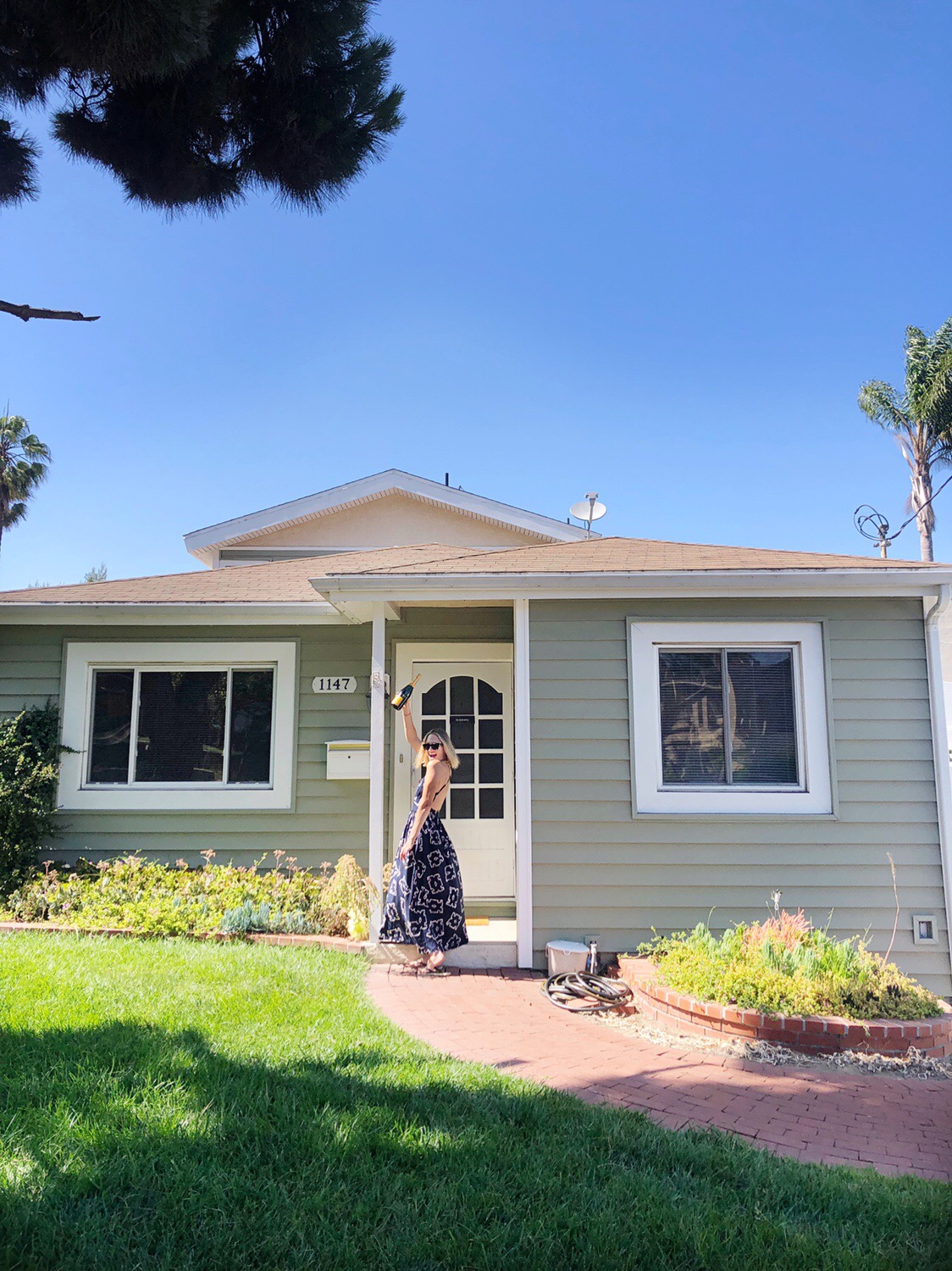 We lived in it for 1.5 years.  I did several DIY projects to make it reflect our style while living there but as soon as we received our permits from our City, we started construction.   We remodeled instead of building from scratch.  We thought it would be faster and cheaper that way.  It probably was not.  With rising material costs and the complications of this remodel, it ended up being way more expensive than we had budgeted for.  (Another story for another day).  It was a large remodel with an addition upstairs.   We used Ballentine Architect Studio and were happy with their work.  They understood my vision and made it happen.   We kept a lot of the footprint of the home but added a garage in the front and built above it.   We had tons of decisions to make about everything, the exterior too!
Choosing the Exterior Finish
One of the first and most significant decisions we made for our exterior remodel was selecting the exterior finish. We chose smooth trowel stucco.   Stucco is a versatile and durable material that can dramatically impact the appearance of a home. After careful consideration, we chose a beautiful, warm white, smooth trowel stucco finish that complements our home's architectural style. Its earthy color provides a modern yet inviting feel, and the smooth plaster texture adds depth and character to the façade. Stucco not only looks fantastic but also offers excellent protection against the elements, making it a practical choice for our home's exterior.
2. Tile Selection for the Perfect Accent
To add more texture and sophistication, we decided to incorporate decorative tiles into our remodel.  When I laid eyes on Arto's Newport Brick, it was love at first site.  Newport Brick Veneer is a long-form, modern looking brick with a limestone textured surface and crisp edges.  The concrete composition is durable enough for freeze thaw climates and can be used for walls and floors. These tiles are strategically placed around the entry and the entire garage exterior wall, creating a captivating visual focal point. The tiles infuse an organic vibe into the overall look, while remaining modern.   This may be controversial, but I did not grout the tile.  I love the non-grouted look of this tile and we have all the necessary water proofing behind the tiles.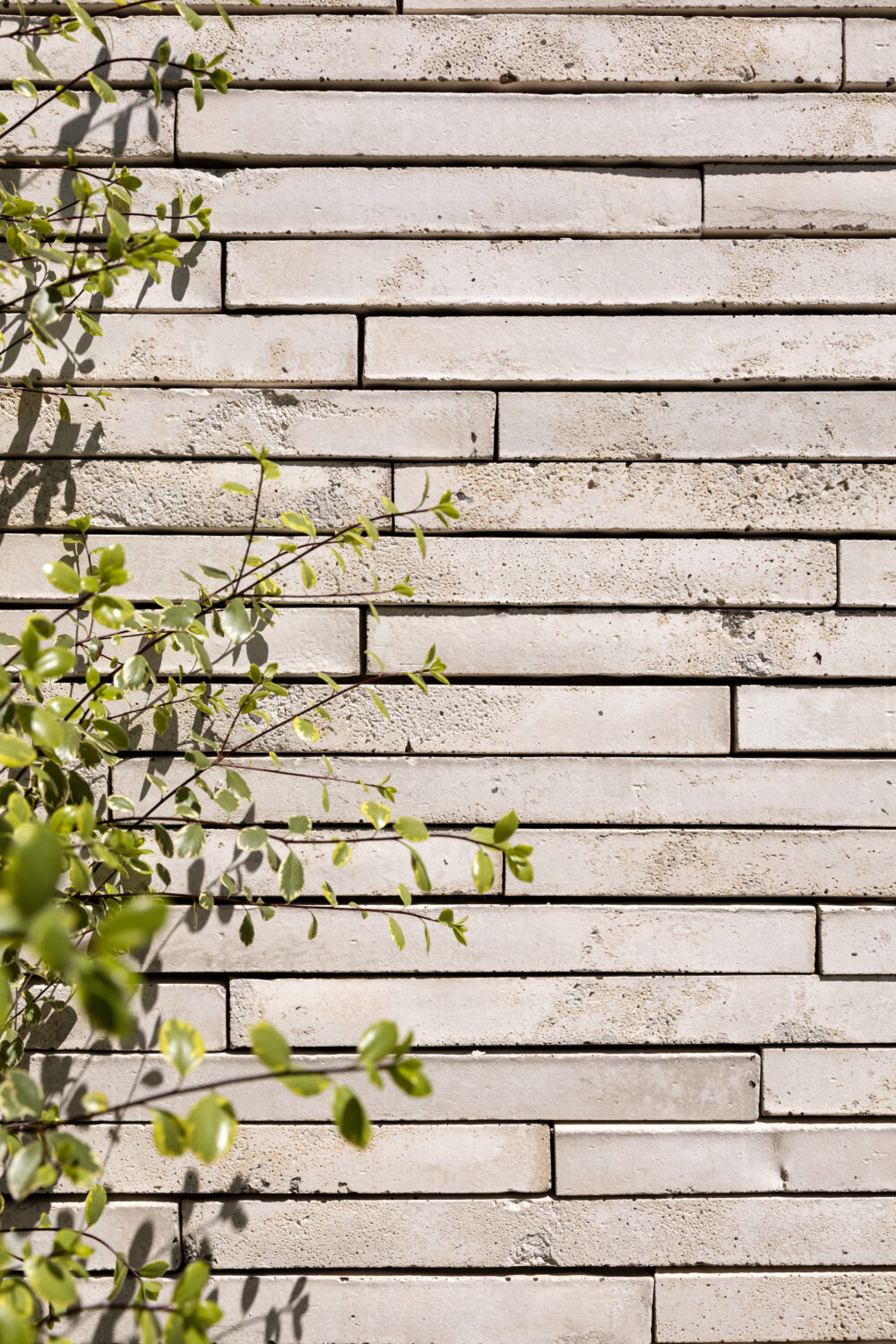 The front patio tile is Bone and Early Gray concrete pavers (also from Arto tile) laid in a custom pattern.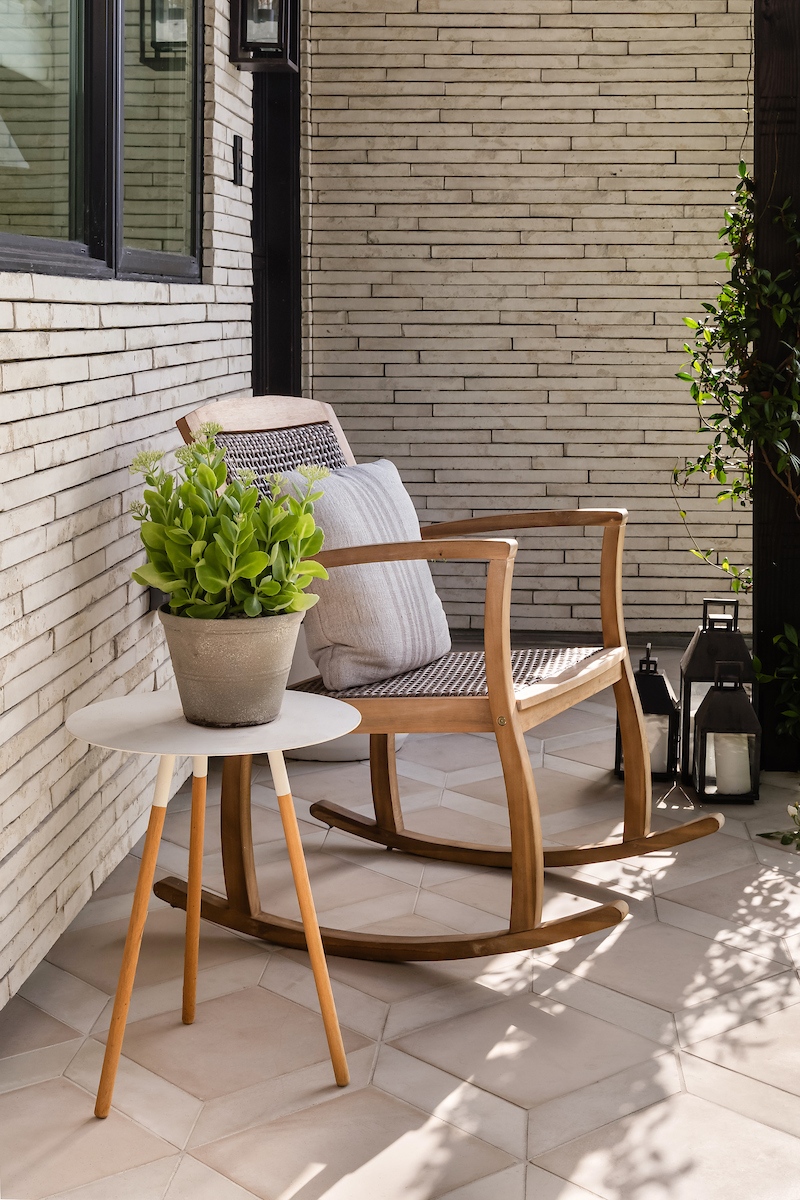 Windows
To grid or not to grid.  That was a question I debated forever!   Ultimately, we decided against grids and we went with Milgard fiberglass casement windows (with no grid pattern).   Fiberglass is more expensive than Aluminum but at the time, it was the only way I could affordably get white on the inside and black on the exterior of the windows.   They also have many benefits.  Fiberglass windows are low-maintenance and resist swelling, rotting, warping and corrosion. They do not require repainting like wood, but the material is paintable, which is awesome because you know I like to paint!   We painted our library window dark green to match the rest of the room (for example).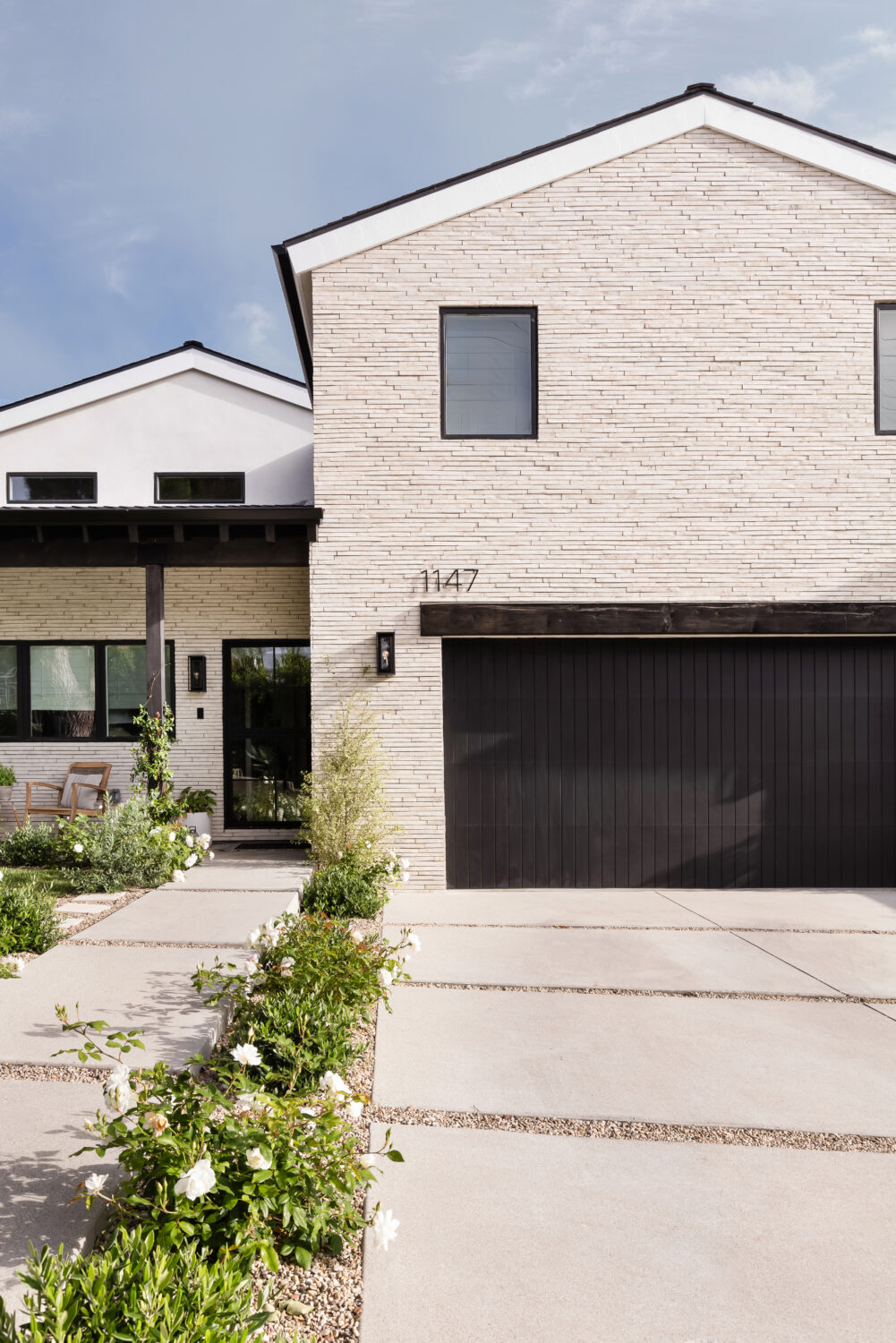 I did, however, find the most amazing front door that does have grids to mix it up.  It is also a dutch door!  It is customizable for your exact dimensions and as far as front doors go, reasonable in price.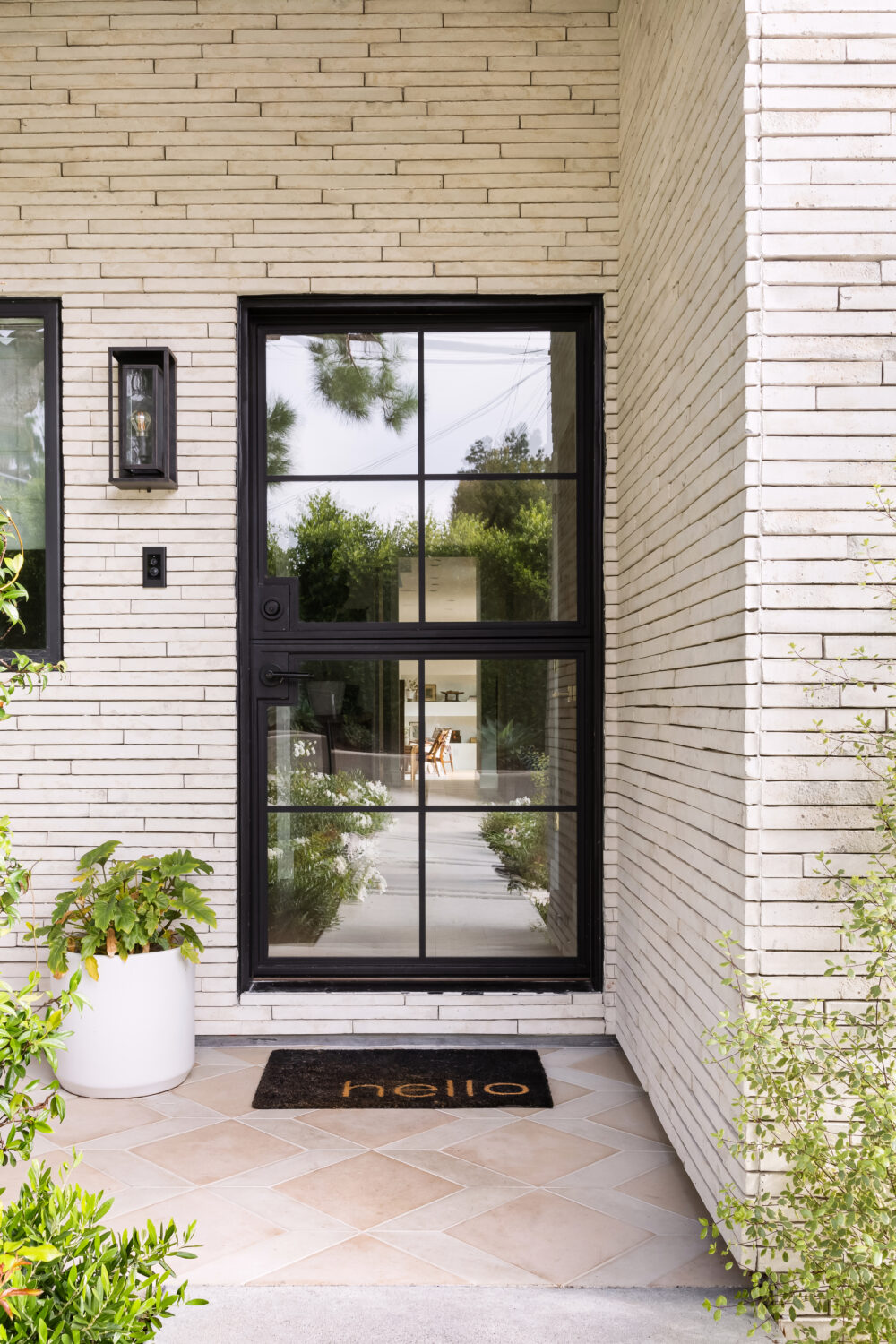 Roofing
Given the extensive nature of our remodel, we had to add an entirely new roof. We chose GAF Timberline Reflector Series in charcoal.
5. Landscaping: Bringing Nature to Life
No exterior home remodel is complete without landscaping.  Yardzen came to the rescue!   We told them everything we wanted and they made it come to life in a rendering.  We used the rendering to implement the design ourselves.  We opted for a mix of real (front yard) and fake grass (backyard) and a mix of plants, some drought-tolerant plants, thoughtfully arranged to create a harmonious balance of greenery and hardscape.  Specifically, in the front, we used olive bushes and white roses.   The climbing vine is star Jasmine.  The addition of a the small stone sections in our walkway leading up to the front door  adds an element of charm to our home's exterior.  We did the same pattern in our driveway to break up the large amount of concrete.
Here is the rendering we received from Yardzen.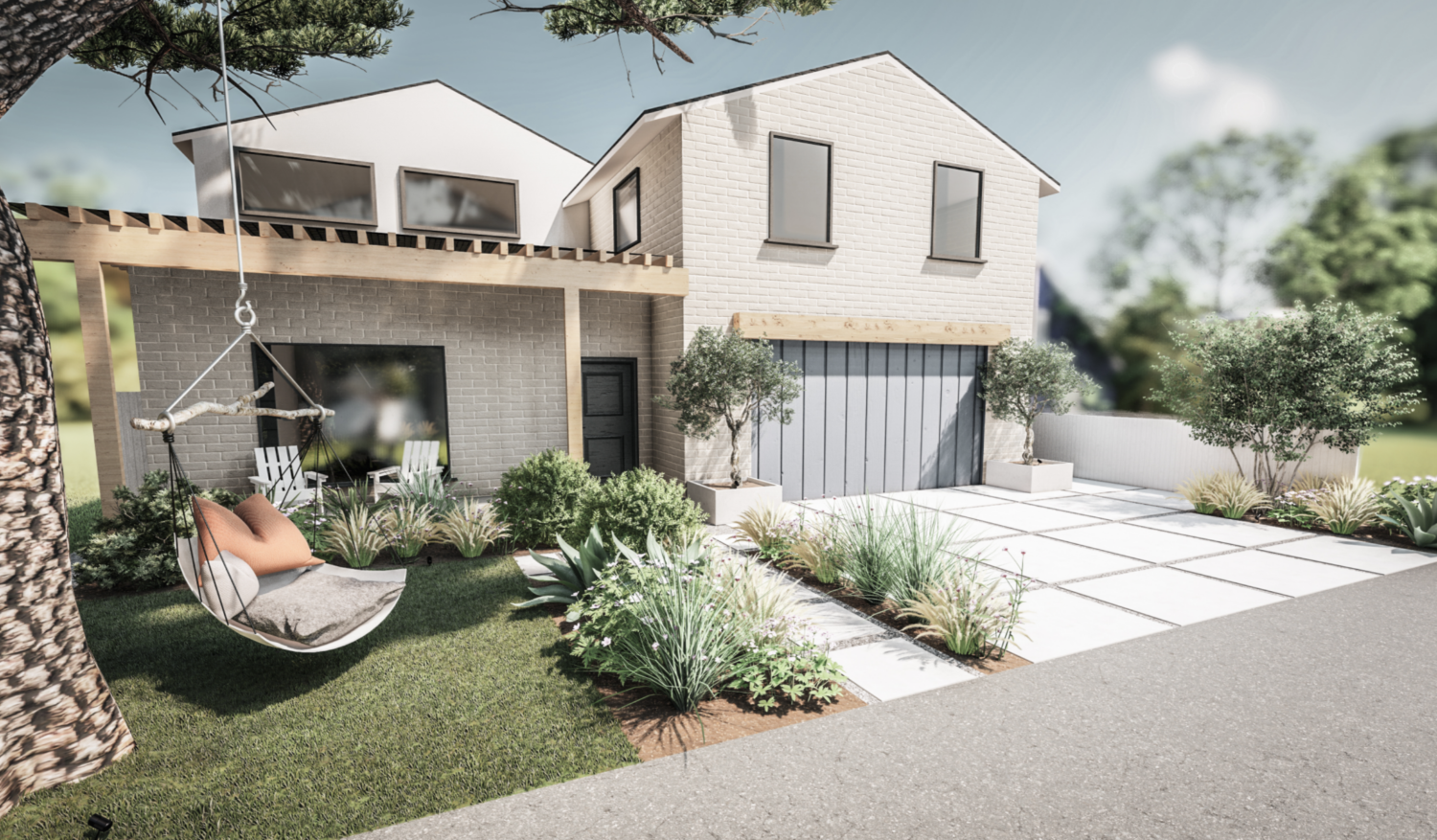 6. Coordinating Colors and Materials
One of the key elements of a successful exterior remodel is ensuring that all the materials and colors work together harmoniously. We made sure that the stucco, tiles, and landscaping elements complemented each other. The earthy stucco and tiles are complimented by the lush landscaping, creating a warm and inviting atmosphere. In addition, we painted the garage door black and stained the wood elements black to complement the overall design, tying all the elements together.  For those wondering about our garage door, we used Colima Garage Doors and Repairs and showed him this design and he made it happen.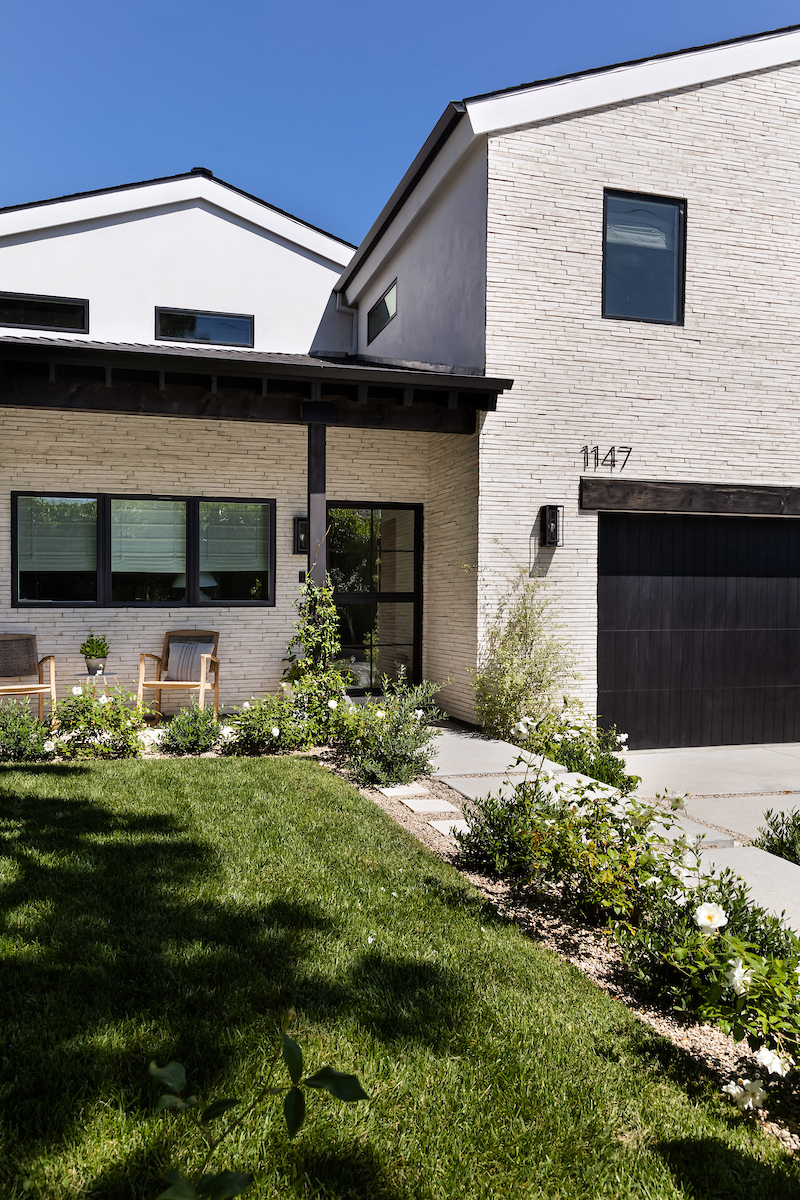 7. House Numbers, Lighting and Final Touches
I was gifted gorgeous house numbers by Dropcap Studio.  We chose the Forza Light in black. We LOVE them!
I wanted to keep the lighting simple (and inexpensive) so opted for these lights from Wayfair.   They work great and look great AND the price is awesome!
For front porch decor, I added these affordable and comfortable rocking chairs.  We love sitting on the front porch to catch good morning and afternoon sun and people watching.  🙂
I found our mailbox on Etsy.   I love it!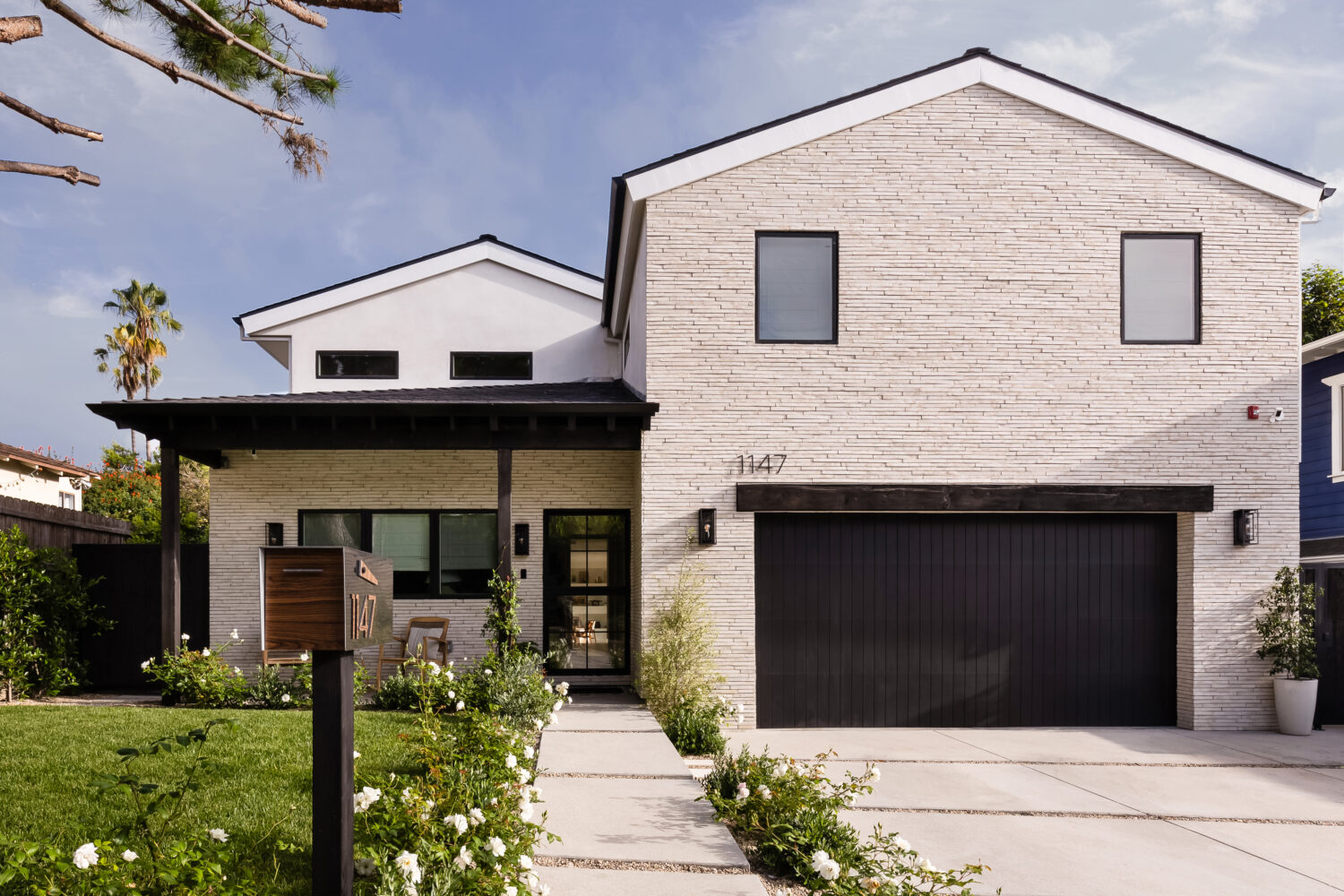 Our exterior home remodel has been a labor of love, resulting in quite the transformation that reflects our style and personality. The choice of stucco, tiles, landscaping, and other design elements has come together to create an inviting and beautiful exterior that we're proud to call our own.   Feel free to send me a DM on Instagram if you have ANY questions at all.
xoxo,
Kristin
Photo Credit:  James Ogg