December 6, 2022
teenager boy bathroom reveal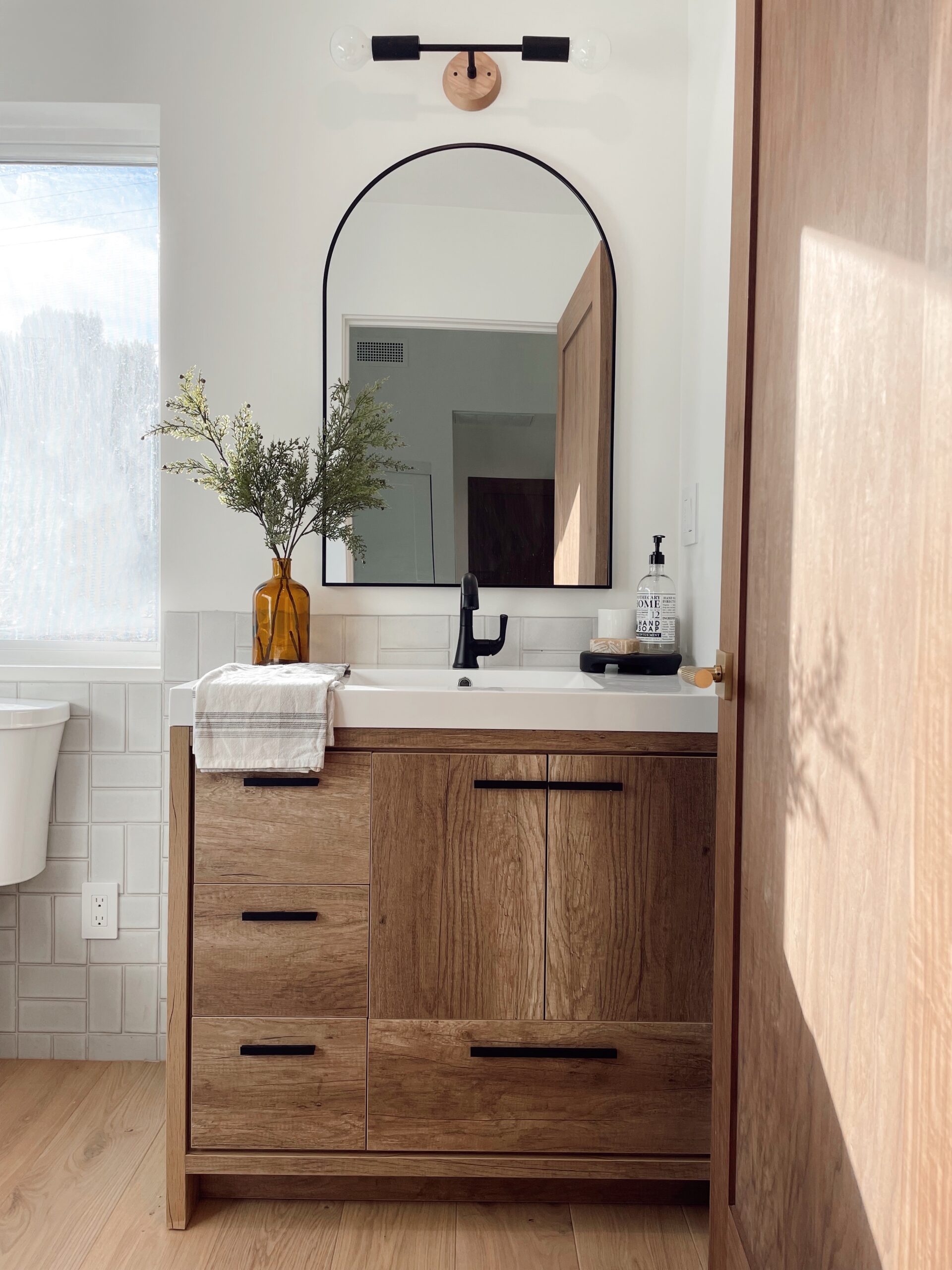 Besides a missing window covering, this boy's bathroom is done!   I have encountered many hiccups when trying to reveal rooms in our newly remodeled home because not all of the details are done.  But this one is close enough!  We all, especially him, love it!  First, let's talk about the beautiful tile, tile pattern and huge tub.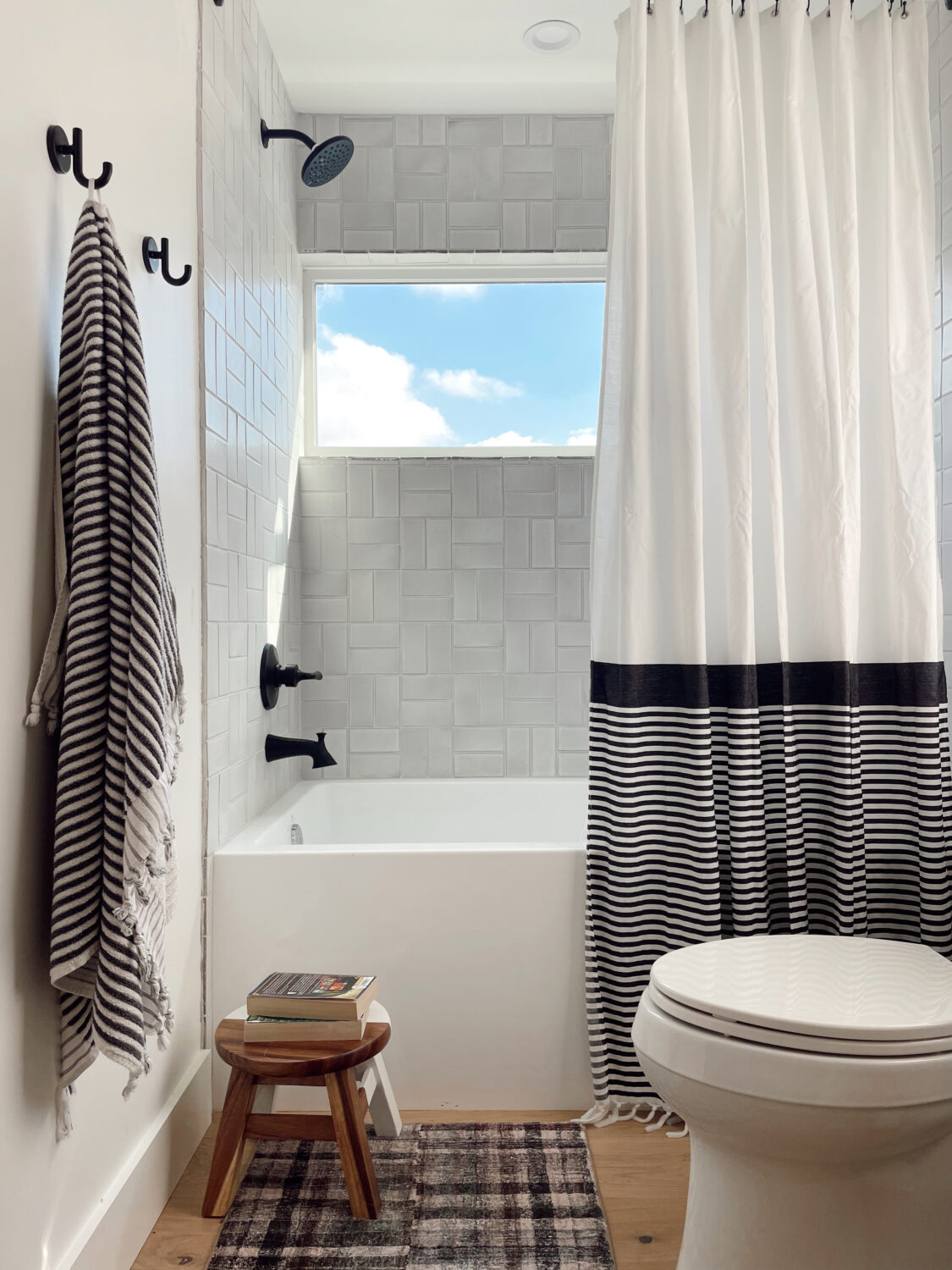 The tiles are from Arto.  They are 3×6 Studio Field Sierra Snow.   I decided to display them in a basketweave pattern.  I love mixing patterns, so I had fun mixing in stripes and plaids against the pattern of the tile.
The bathtub is a large acrylic alcove tub that is larger than what people typically use but I wanted a large shower and a large soaking tub and we had the space so why not?!  It measures 60″ (L) x 36″ (W) x 21-5/8″ (D).
After being an almost exclusively delta faucet purchaser for my faucets, I was lucky enough to work with Delta Faucet!  A dream!  This tub/shower combo faucet is the Kayra Monitor 14 Series tub & shower trim in matte black.   It is beauty meets function at it's best.  I will link all accessories below.
Let's talk about the sink/vanity situation.   It is what you see when you walk in and it does not disappoint.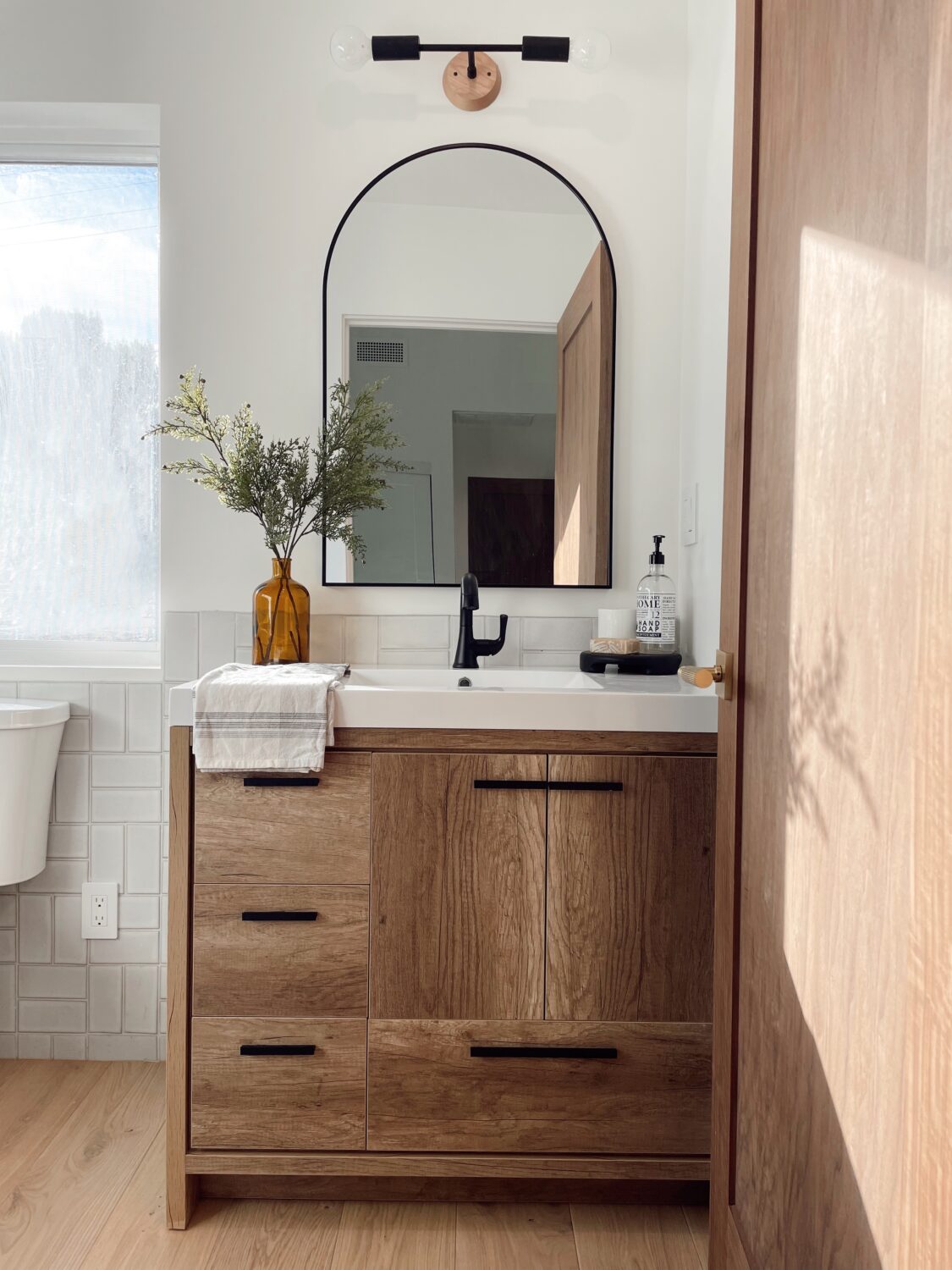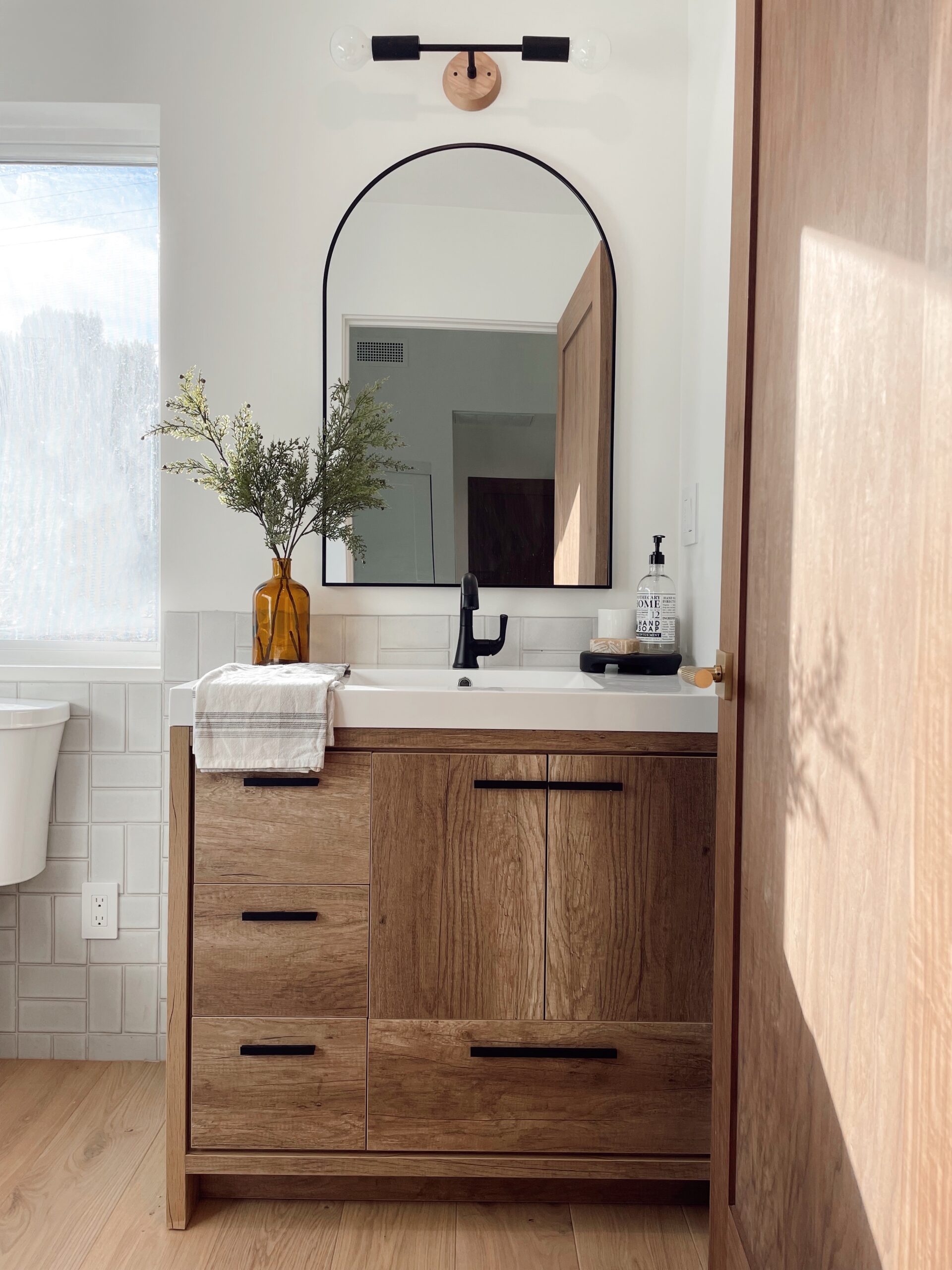 We bought this vanity from West Elm – it is their Donovan 36in vanity in white oak (note: it is a white oak engineered finish, easy to wipe down).  It comes with a beautiful white resin counter and sink and beautiful black hardware.
The faucet is the Kayra single handle pull-down faucet in matte black from Delta Faucet.   It is SO nice to pull it down for easy cleaning, especially for those hard to reach toothpaste spots …
Ok let me link all the accessories for you!   Styling can make a room FOR SURE.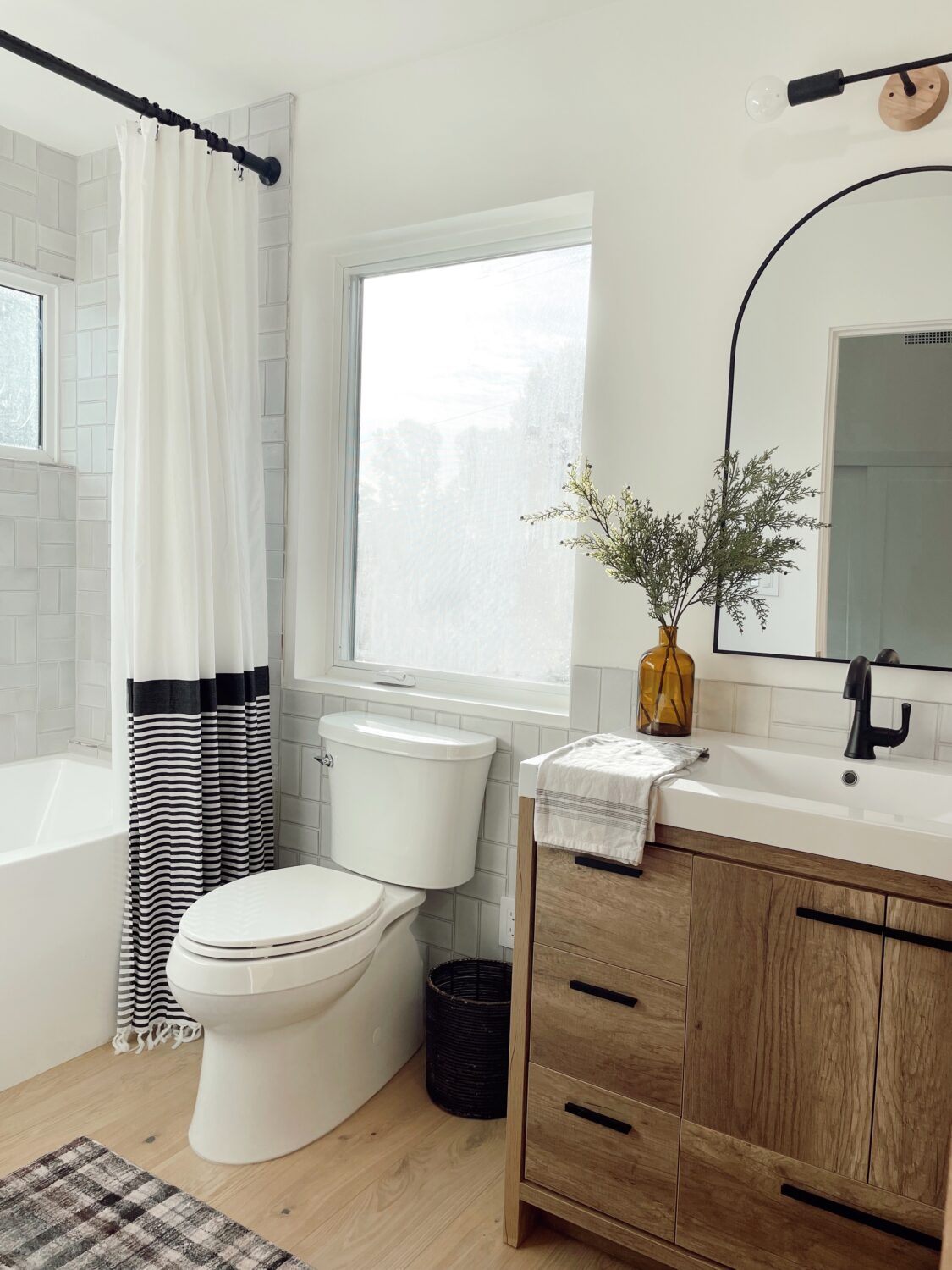 Last, but certainly not least, we decided to run our hardwood floors into all of our bathrooms, except the primary.  The floors are gorgeous.  They are "fika" from Stuga.
Hope you like it!  Let me know your favorite part below in comments!  You can find all this and more on my Instagram and Pinterest.  Thanks for reading!
xoxo,
Kristin