May 23, 2023
my daughter's pre-teen bathroom reveal and all the sources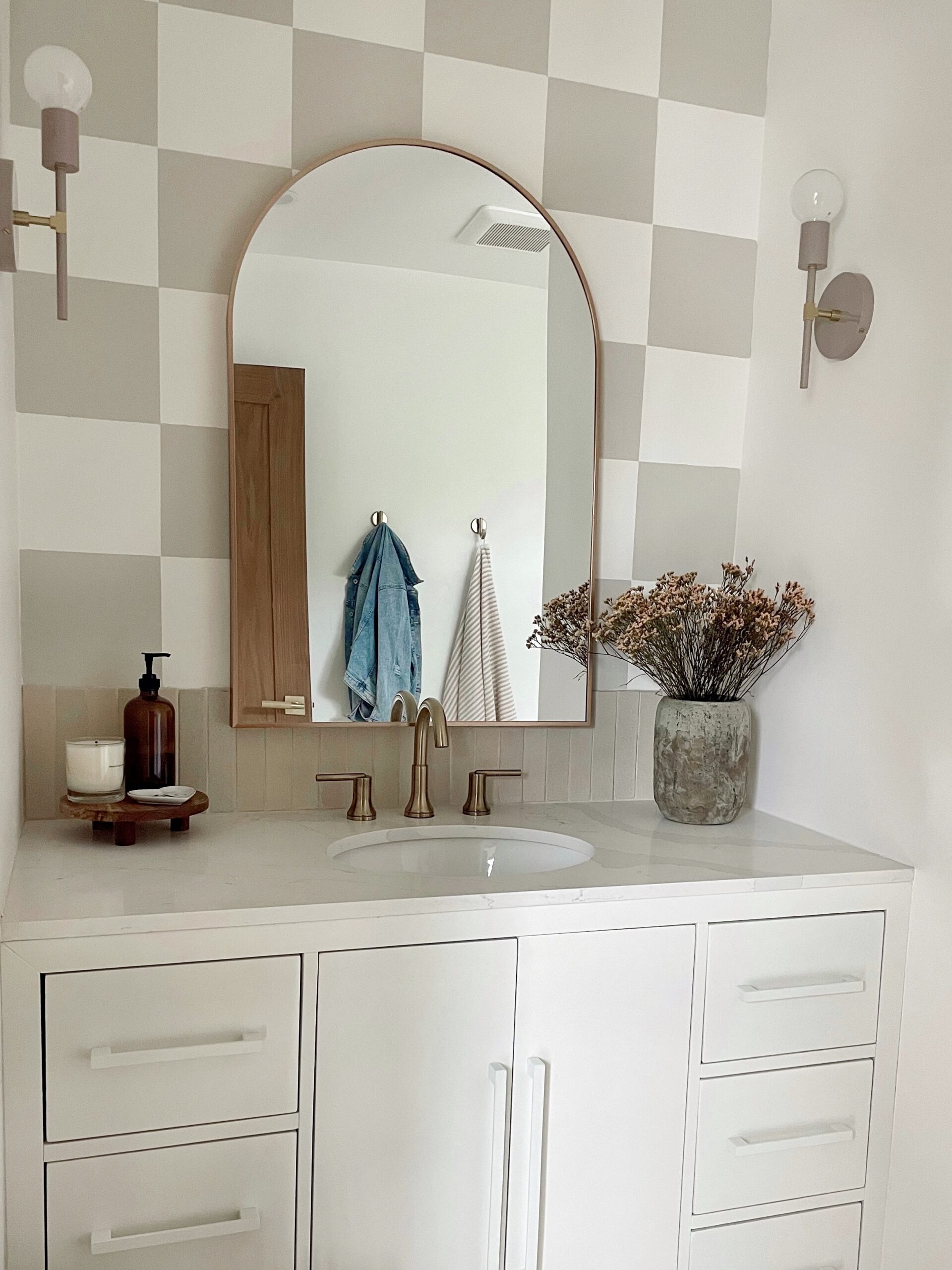 My 10-year-old daughter's bathroom is finally complete!   It took me months to decide what to do with the white walls.  Originally, I was going to wallpaper them but I decided to paint them instead.  I LOVE how the DIY checkerboard walls turned out.  They compliment the beautiful tiles, hardwood floors and the white vanity.  Let's discuss all the sources – starting with the tile and the faucets!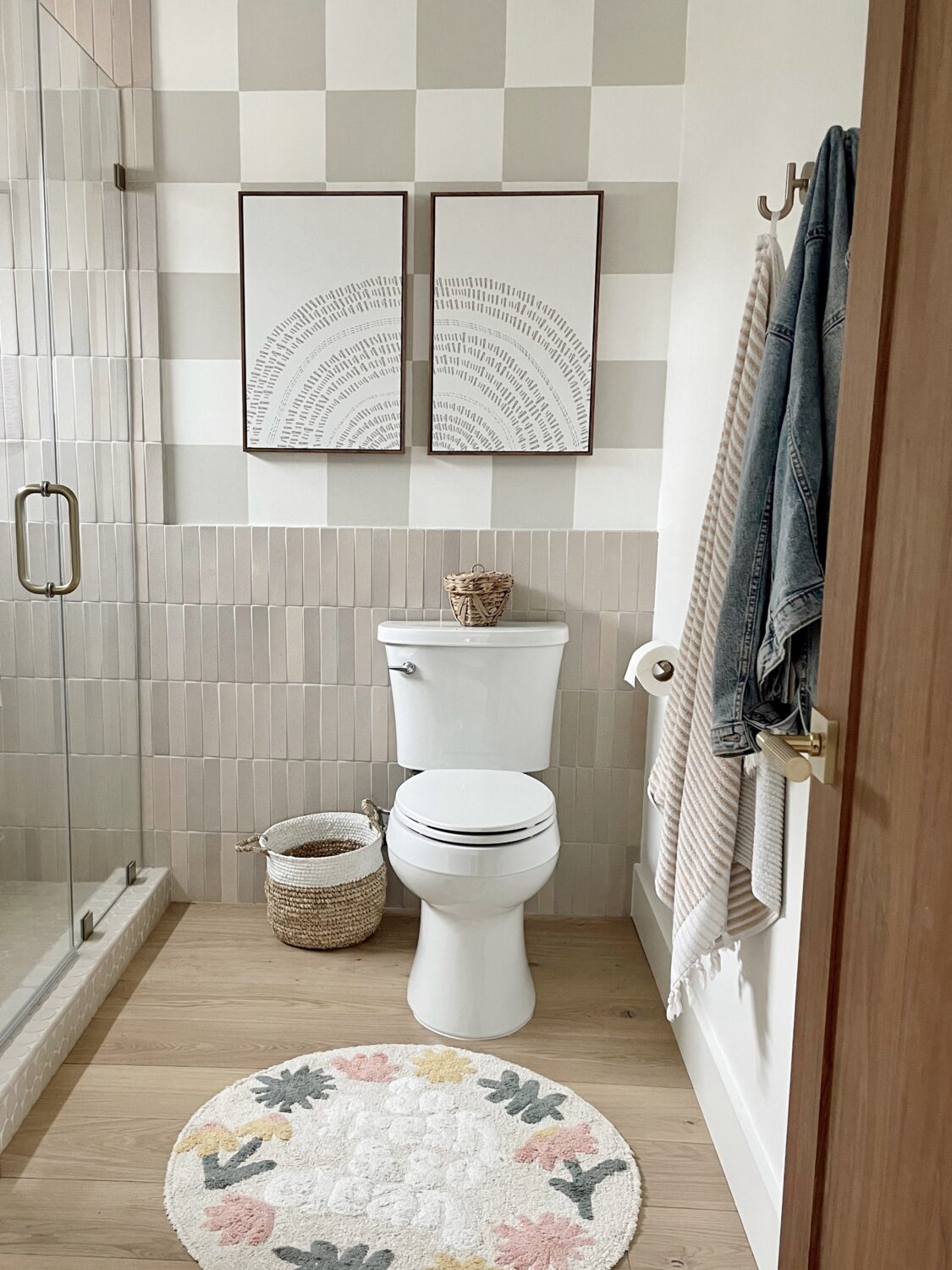 The wall tiles are from Arto.  They are 2×8 Studio Field in Alabaster.   I decided to display them in a vertical stack pattern.  I love mixing patterns, so I actually changed the pattern to horizontal over the shower bench.   The shower floor tile is from Bedrosians.  I love the playful vibe of the large format penny tile contrasted with the vertically stacked tiles.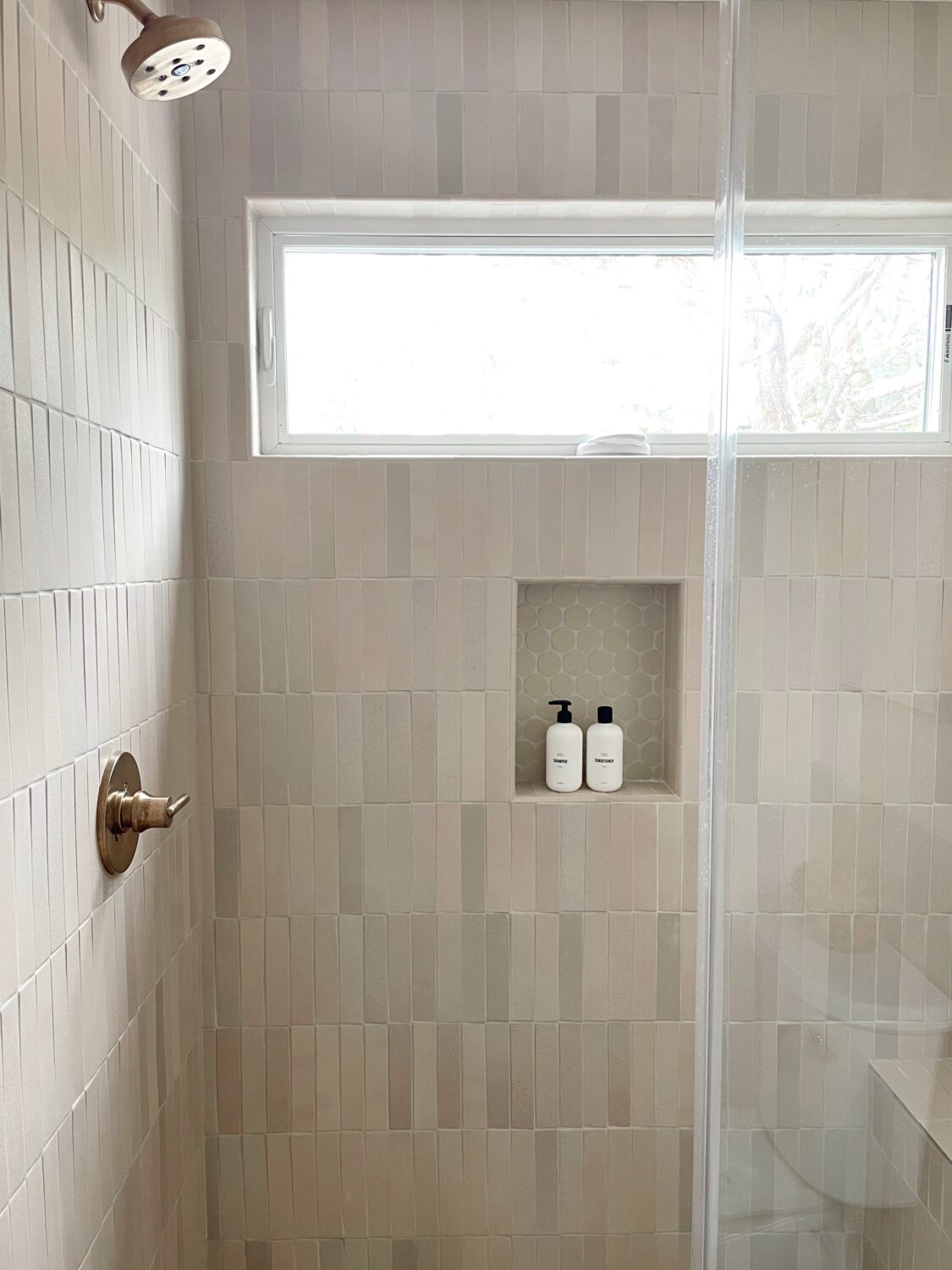 After being an almost exclusively delta faucet purchaser for my faucets, I was lucky enough to work with Delta Faucet!  A dream!  This shower faucet is the Trinsic line in "brilliance champagne bronze."  It is the prettiest metal color.  It goes so well with everything.  We got matching hooks and a toilet paper holder.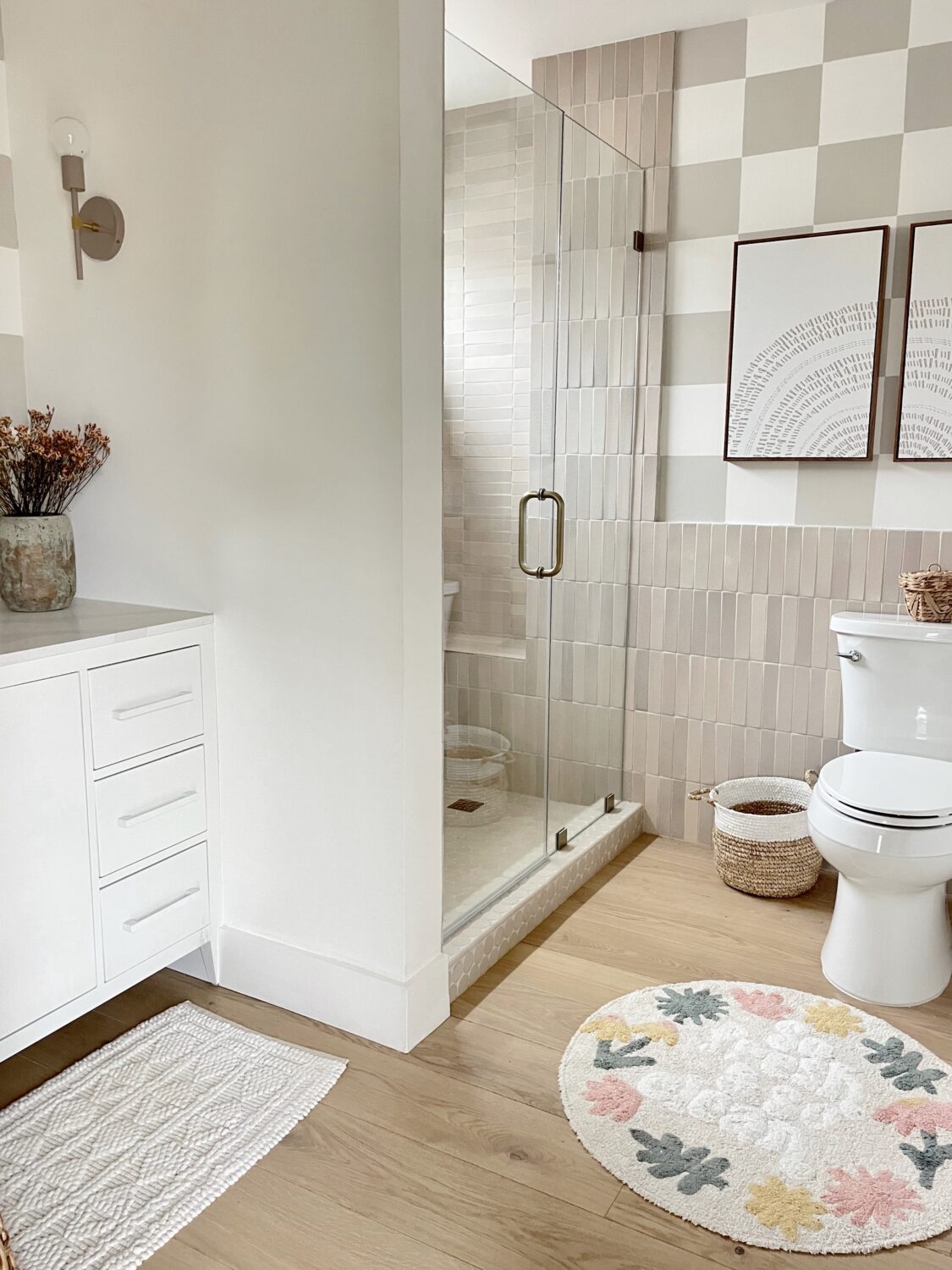 Let's talk about the vanity situation.   I did NOT want to pay for a custom vanity.  I found this one on Wayfair.  Here is the link.  As you can see from the link, it came with black pulls.  I had intended to buy new hardware but I couldn't find the correct lengths and I did not want to fill and drill new holes.  So naturally, I spray painted them.  I opted for a linen white.   Here is the link to the spraypaint I used.   The sconces are from Dutton Brown in "barely" with a brass accent.  The faucet is from Delta – the trinsic line.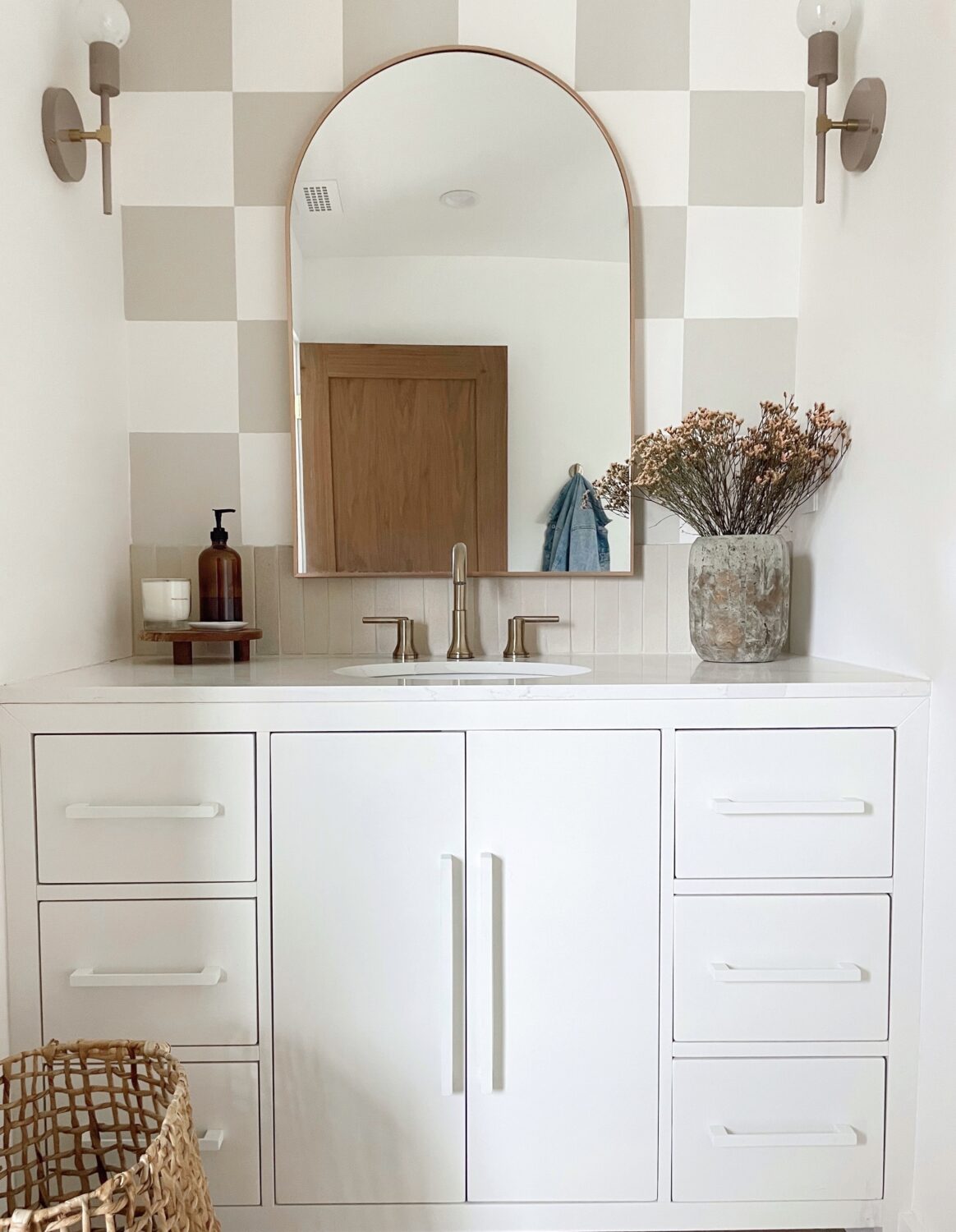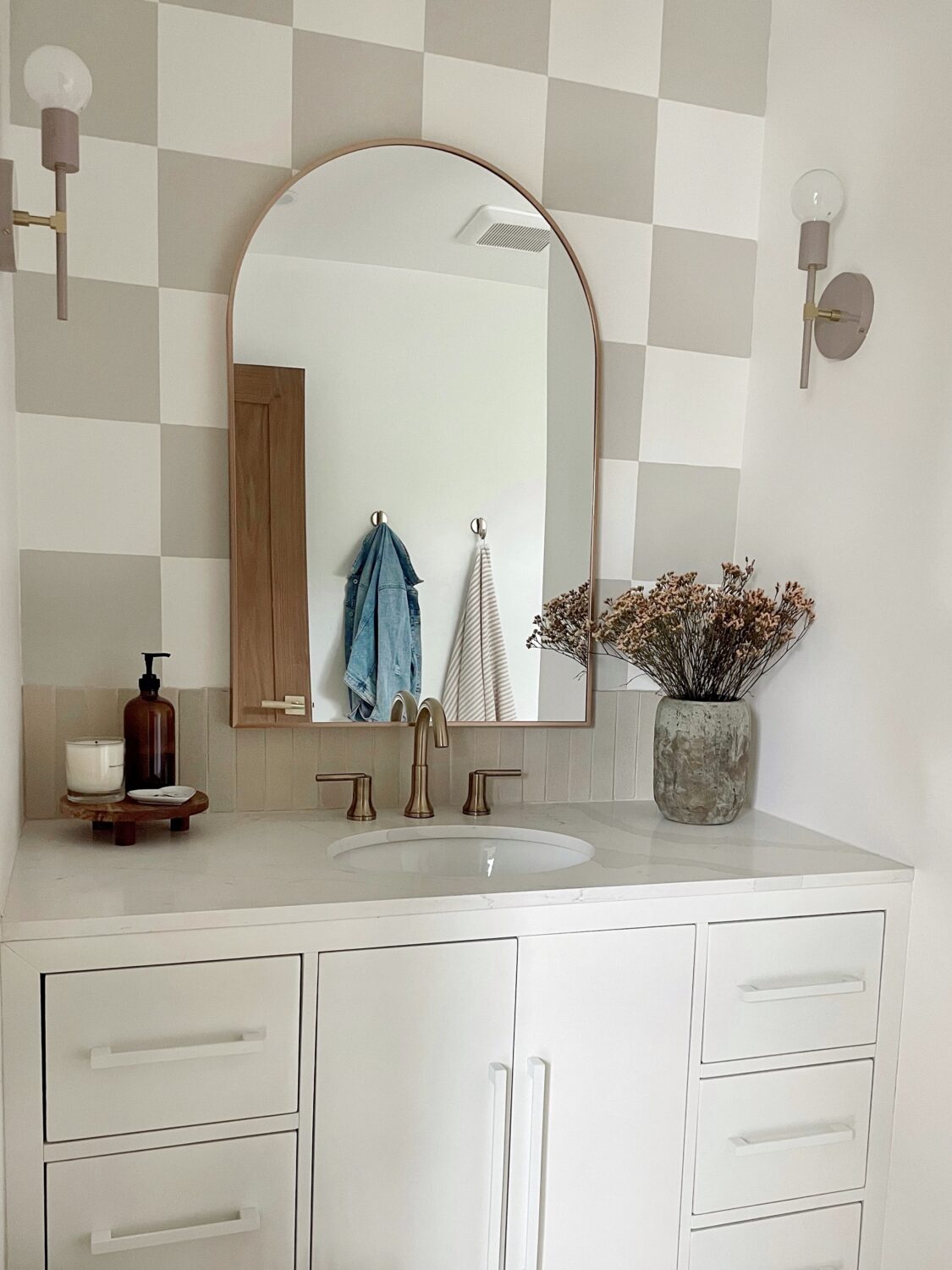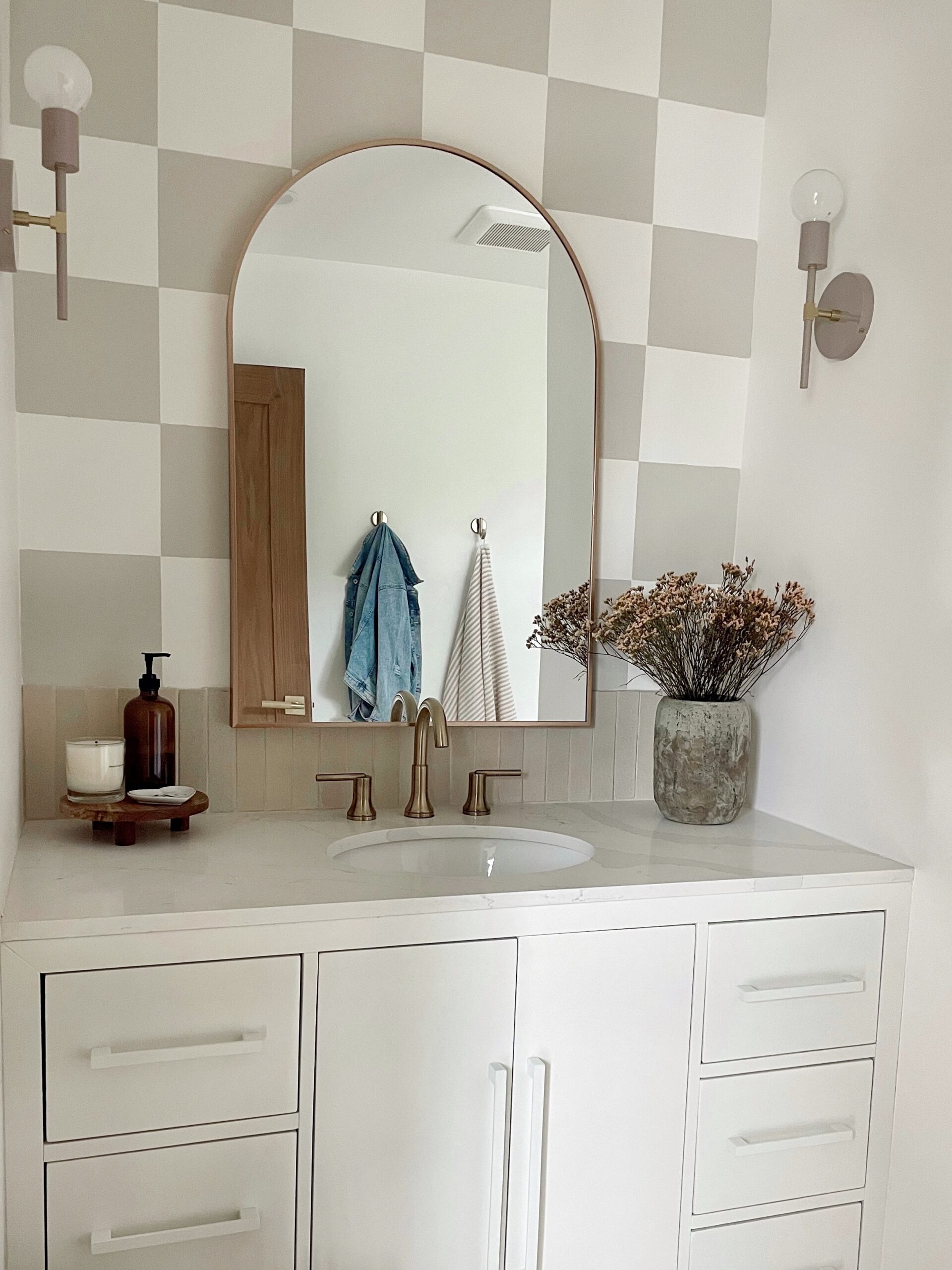 For the DIY checkerboard wall, I did 8×8 squares to line up with the tiles.  The white color is "simply white" by Benjamin Moore.  But unfortunately I don't know the griege color!  I am SO SORRY!  I had this "griege"  sample in my garage and it was PERFECT but the top is worn so I do not know what color it is.
Last but not least, let me link all the accessories for you!   Styling can make a room FOR SURE.
Last, but certainly not least, we decided to run our hardwood floors into all of our bathrooms, except the primary.  The floors are gorgeous.  They are "fika" from Stuga.
Hope you like it!  Let me know your favorite part below in comments!  You can find all this and more on my Instagram and Pinterest.  Thanks for reading!
xoxo,
Kristin