February 23, 2018
our master bedroom refresh
My home decor style is a lot like my clothing style.  I stick with classic staples and constantly update with accessories.  I buy long lasting jeans and simple tops/sweaters and change my look with jewelry, hats, shoes and bags.  Sort of like my bedroom.  The "staples" are the expensive pieces of furniture that I do not want to replace often.  In my bedroom, the basics are the nightstands, lamps and the bed.  I wanted a more neutral look for the spring so I switched out the accessories.  Here is what I did: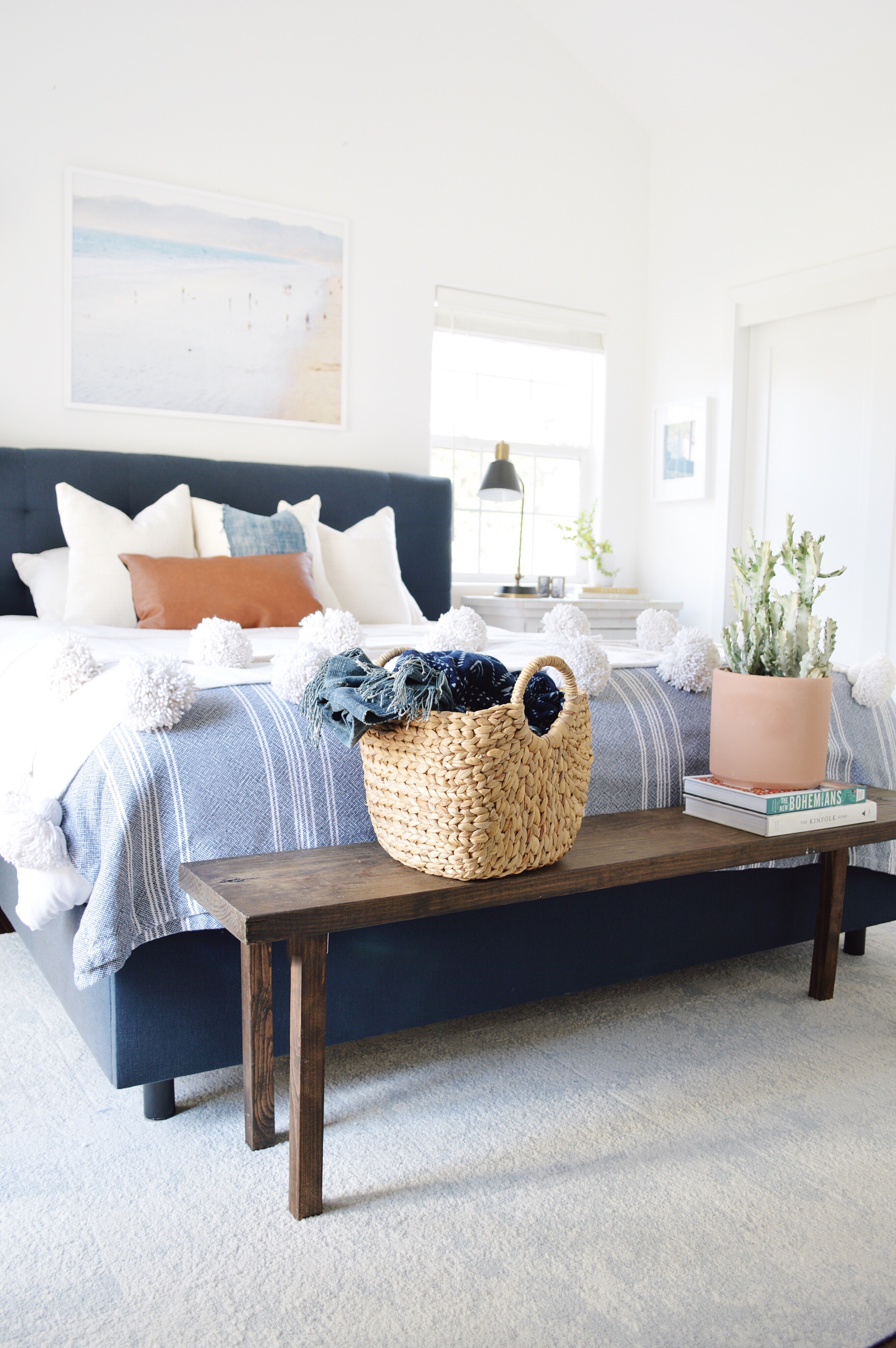 (1) I replaced the rug with this beauty Flor sent me.  Click here for the link.   The color is "bone."  I'm obsessed with Flor tiles because the quality is excellent and if you happen to tragically spill on it, you can easily replace just one tile.  LOVE.  Another amazing thing about Flor tiles, is you can customize the size.
(2) I was gifted a GORGEOUS photo of Santa Monica beach for over our bed by the extremely talented Mina Teslaru.  A link to her instagram (and shop) is here.  It is soothing, beachy, blue and beautiful.   EXACTLY what I needed in our calming bedroom.  Her prices are reasonable and she is uber talented.
(3) I layered blankets for a textured look.  The blue one can be found here from Target.  The Pom Pom blanket is from Berber Wares and can be found here.  It is STUNNING.  Seriously you guys!!!! The quality is insanely good and its so warm and comfortable.  It will be floating around my house as a bed blanket, a throw on the couch, etc.  I LOVE it.
(4) I made a bench for the end of the bed for less than $40.  The tutorial is on my previous blog post. I accessorized the bench with a $25 basket from World Market but I bought it when it was on sale.  🙂 Click here for the link.
(5) I made neutral pillows and a leather one for a pop of color.  Similar pillows can be found here in my shop.
(6) I framed a small piece of leftover vintage indigo fabric in an ikea frame.  An EASY and inexpensive way to make pretty art.
and finally,
(7) I hung a fern from Home Depot in a macrame hanger that cost me $6.  Click here for the link.
I hope you like the new look!   I changed out a lot of my accessories, but remember that you can make a huge impact by just changing the rug.  Or just changing the bedding.  Or just changing the pillows.  You know that feeling when you have on a new outfit you love (even if the jeans are old)?   Well, that's the feeling I get when stepping into a newly refreshed room in my home.  🙂
xoxo,
Kristin
*** This post contains affiliate links and sponsored content but I ONLY work with companies for products I love and would never give the products a positive review unless I truly loved them.  🙂