May 1, 2018
my master bathroom reveal
I am SO excited to finally show you guys our new master bathroom!
A little back story — we bought our house 9 years ago.  It has been a labor of love since then slowing remodeling areas of the house.  We have added hardwood floors, built-ins, landscaping, a new kitchen, deck, etc.  Our bathrooms have good bones and function well but are not our style.  After 9 years of debating the design for our master bathroom, we finally did it folks!
The style — Our house is a spanish style beach bungalow.  I wanted to keep the bathroom classic and consistent with the architecture of the house, while also appeasing my modern aesthetic and organic modern style (earthy natural tones with lots and lots of plants).  After spending hours and hours AND HOURS looking for inspo, I saw a kitchen picture with terra cotta floors.  Once I got my heart set on that style, I found handcrafted concrete tile with more diversity and texture than terra cotta and I was sold.  To compliment the floors and appealing to my modern aesthetic, I chose white large subway tile, a wood vanity, lots of whites, plants and oil rubbed bronzed faucets to pop off the white.  And for those of you who knew I was stressed about the grout color — I choose "bleached wood" for both the floors and walls.
Here it is!!!
Scroll to the bottom for sources (the shelf was a DIY using wood and spray painting L brackets – all included in the sources below).
As you can see, over time I replaced the hardware on the vanity for darker hardware.
BEFORE PICTURES:
The tons and tons of travertine were just not our style.  And the vanities had NO storage at all, besides the one basket we could each fit on our vanity.  The layout, however, was great!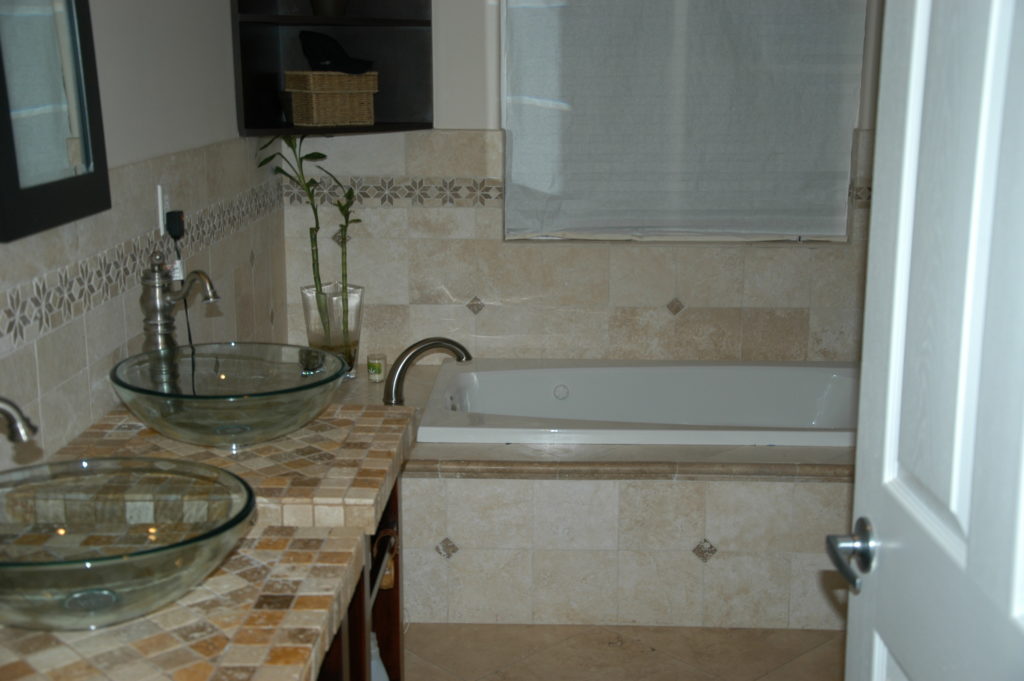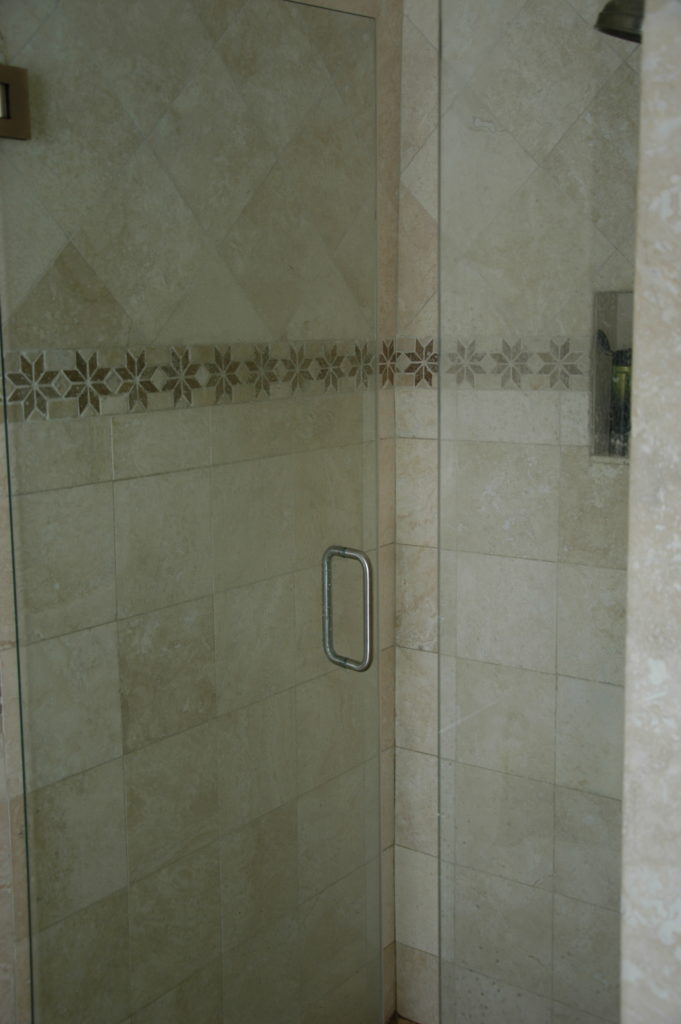 SHOP THE PRODUCTS (click below for links*):
1. hexagon floor tile and another option click here  I purchased them from Discount Tile Center – call for availability and cost of shipping (310) 202-1915  2. large white subway tile 3. ladder 4. turkish textiles  5.  bath caddy  6. All Modern tub 7. Lampsplus wood pendant light (not yet installed) 8.  Delta tub filler with hand shower 9.  shower faucet 10. bath mat 11.  rattan basket 12. pots in the hanging planters 13.  Norwegianwood plant hangers 14. blue coral art 15.  kaitcreative art 16.  canister on shelf 17.  Lampsplus vanity lights 18. rejuvenation rounded rectangular mirrors 19.  vase on vanity 20.  build.com sink faucets 21. vanity from signature hardware 22.  sagrario planter 23. wood for shelf (buy a 2in x 8in x 8ft and cut down to size and stain it desired color) 24. brackets 25. spray paint  26. Candle
*This post contains affiliate links 
(I did partner with many of these brands, so while this post is sponsored, I only partner with brands I love and I do genuinely love all of these products).
xoxo,
Kristin