October 4, 2019
How to Style Your Kitchen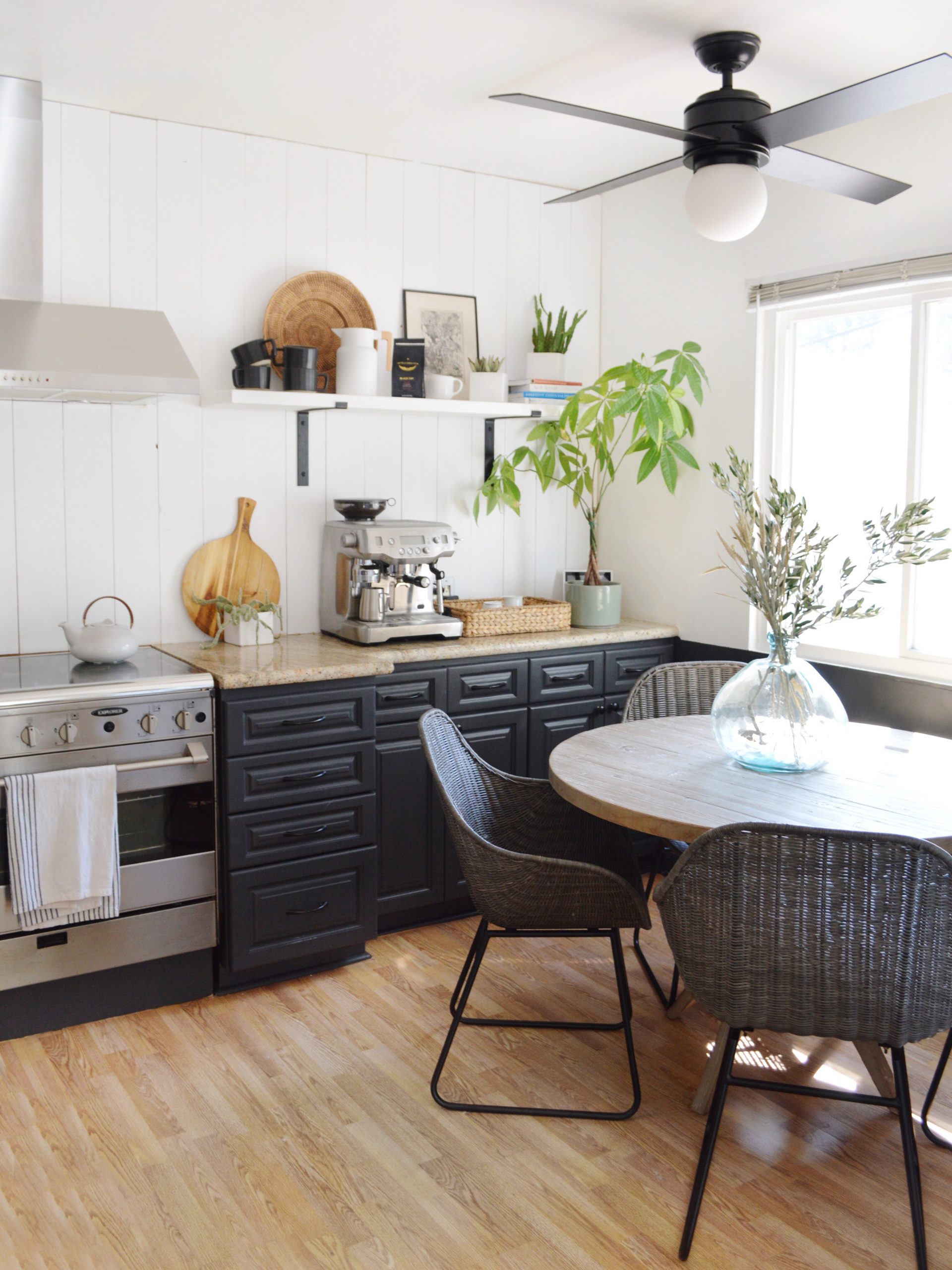 The first part of the kitchen remodel helped make our kitchen align more with our style, and now it's time for the best part of the process: styling it! Here are my favorite stylish (but budget-friendly) products I've included in my kitchen and some tips on how to style your kitchen to fit your desired look.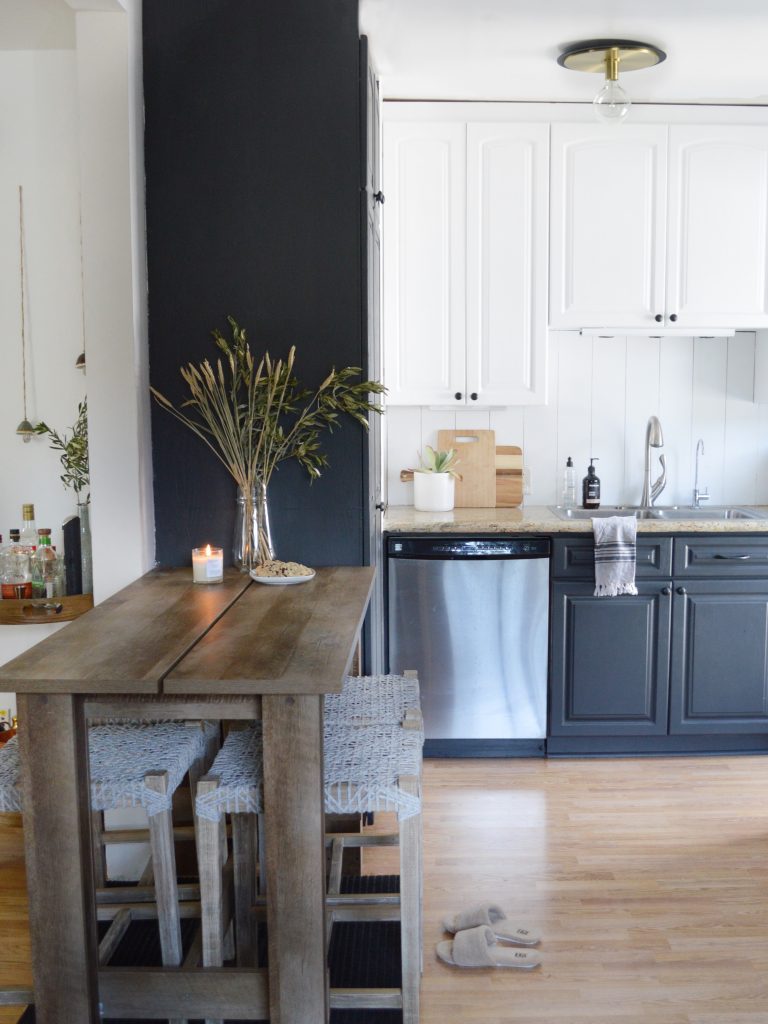 KITCHEN FURNITURE
Kitchen Table and Chairs completely make the room. MAJOR shout out to The Hängar for these stunning pieces in my kitchen! The Hängar is a BEAUTIFUL furniture store located in Santa Monica, CA (address: 2408 Lincoln Blvd. Santa Monica, CA 90405). Corinne, the owner, is truly a gem. She is kind, helpful, patient and has an excellent eye for design. If you go into the store and mention you heard about it from my Instagram, she will give you a 15% discount! Valid for your first purchase only. 
Kitchen Counter Stools are from a trade-only store called from Essentials for Living, but as a designer and a member of the trade, I can source some for you if you want – just shoot me a DM!
Kitchen Island is from All Modern, and I love how this light wash wooden tone brightens up the entire area and gives us additional seating beyond the traditional dining table.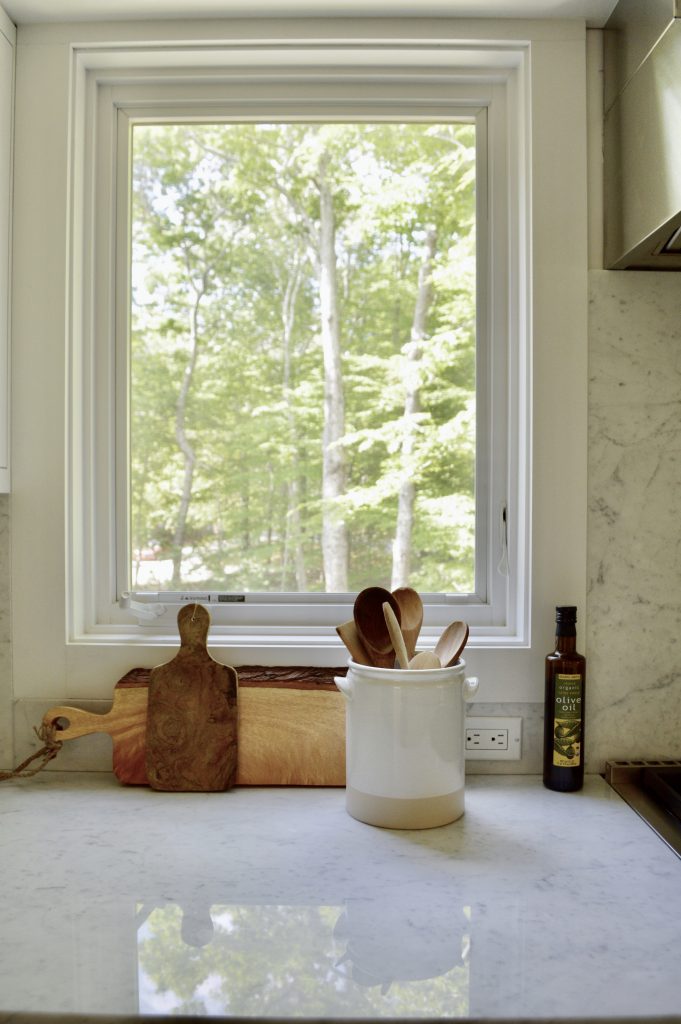 KITCHEN ACCESSORIES 
The little details are EVERYTHING when it comes to creating a cozy, welcoming kitchen. These are some unique and affordable kitchen accessories that are not only practical but so cute that they become pieces of art.
Cutting Boards might not be something you would typically think to add dimension to your kitchen, but a quality wooden cutting board will hold up use after use, and let's be honest: you can never get enough natural elements inside your home. These may all be acacia wood, but there's a different wood tone for everyone in these options!
Target Threshold Acacia Wood Board
Target Magnolia Acacia Wood Board
World Market Acacia Wood Board
Kitchen Utensils are essential, but that doesn't mean they need to be boring! This beechwood utensil collection from Target would work in any kitchen. Plus, each piece is crazy affordable, so if you need multiples or a replacement, it won't break the bank.
Cookbooks are a MUST! They're great for stacking, decor and of course – delicious recipes! The more the merrier. Indulge in your favorites, as it gives you more reason to test out fun new meals with your family and put your cooking skills to the ultimate test!
The Barefoot Contessa Cookbook
Nourish Cookbook
The Ultimate Instant Pot Cookbook
Magnolia Table
MY OTHER RECENT STYLING FAVORITES

Target Coffee Mugs
Target Marble Cake Stand
World Market Dish Towels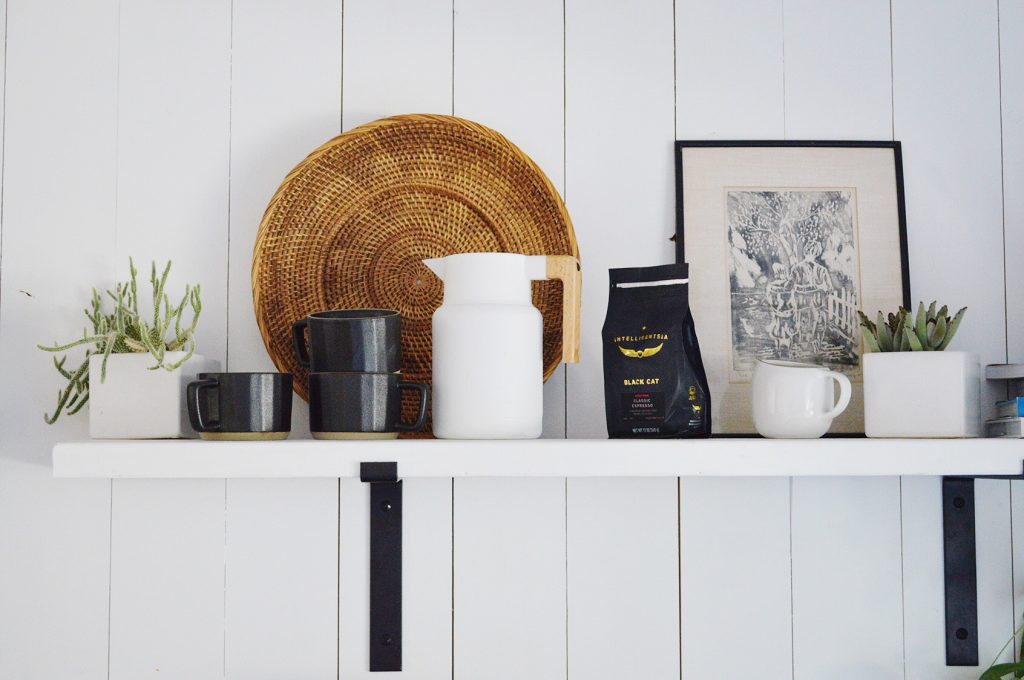 KITCHEN DECOR
Ceiling Fans are a MUST. I would normally suggest a pendant light over a breakfast nook table, but if you live near the beach and you don't have AC, you have to get a ceiling fan. We are so happy with our new stylish one from Hunter Fan Co.!
Light Fixtures are a game-changer and totally help you see your kitchen in a whole new light – literally! Don't underestimate the impact that new lighting will have, especially when the style of it fits your aesthetic. It's absolutely worth it! We got the Milo light from Mitzi and we love it!
Hanging Wall Baskets work great on open shelves – just prop them up behind some other decorative items and voila: instant texture and warmth. I love this one patterned basket from Anthropologie, and this 3-pack of two-toned baskets from West Elm is so unique. 
Rugs under the dining table or a counter table (or both!) will elevate the kitchen and create defined areas within the space – not to mention, rugs bring actual coziness anywhere they are. I raved about this Chilewich rug on part 1 blog post of my kitchen remodel and my Instagram, and I can't get enough of how simple and understated it is. These are budget-friendly rugs and exceptional quality! 
Vases are useful and beautiful, with more and more options available. Whether it's store-bought or vintage, there are so many great uses for a vase: flowers, utensils, fruits, knick-knacks – the list is endless. What's better is that you can have multiple different kinds of vases in your kitchen and it WORKS, because they can all serve a different purpose and be reused in any way you can imagine. All of my favorite vases at the moment are from Target – I'm obsessed with this glass vase I currently have on my kitchen table, this cream stoneware vase is perfect for kitchen utensils, and this amber vase adds immediate warmth, especially for the autumn season.
What are YOUR favorite kitchen styling tips? Let me know in the comments below! You can keep up with my ongoing home remodel projects on my Instagram and my Pinterest. Stay tuned for more blogs coming soon!