January 14, 2019
guest bathroom/laundry reveal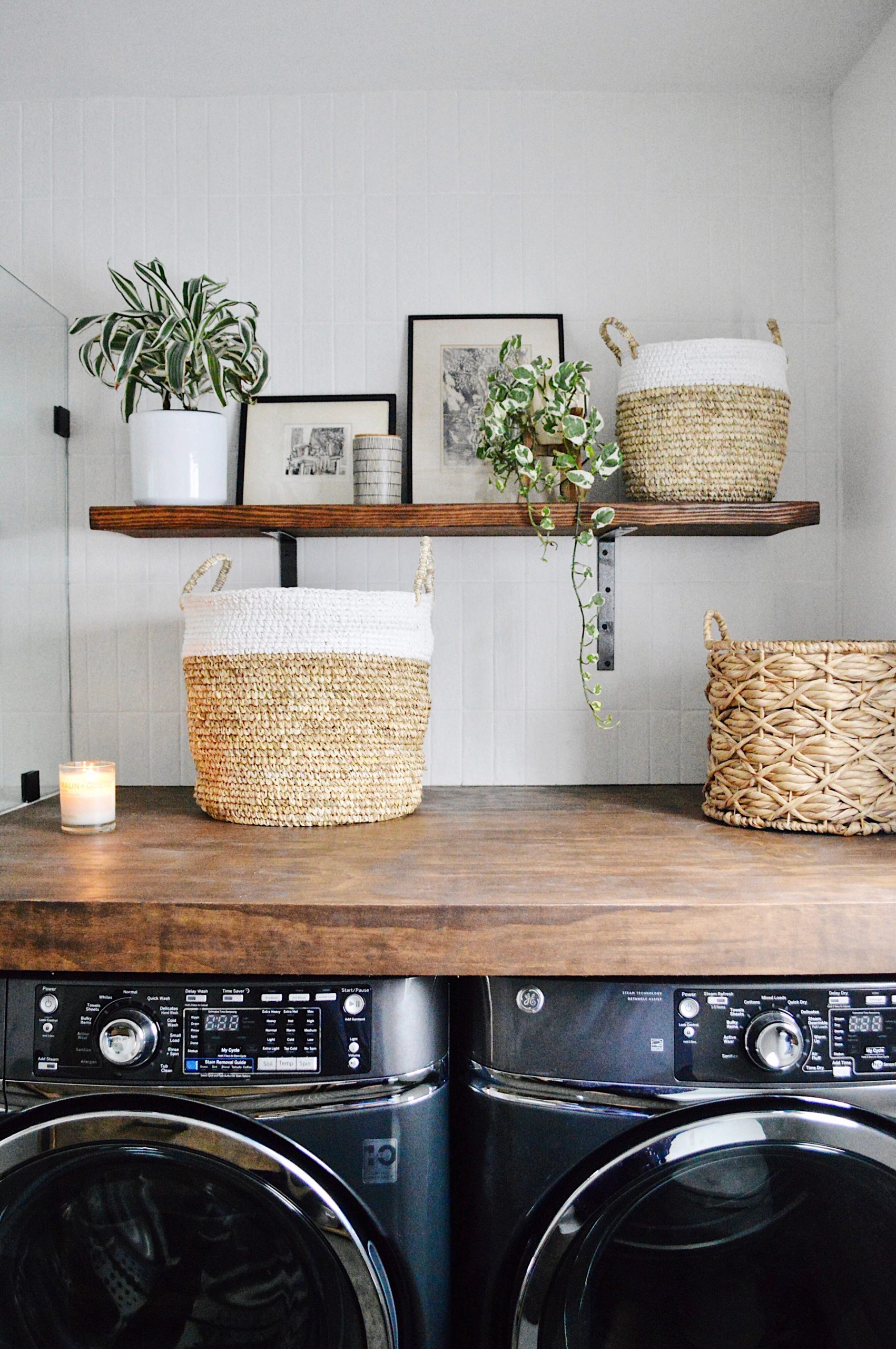 We remodeled our guest bathroom and took out the bath tub and added laundry!!  You might be asking WHY would she take AWAY a tub???  Well, here are all the deets.
We are fortunate to have 3 good sized full bathrooms in our small'ish (less than 1900 sq ft) home but after living here for 10 years, we realized that nobody ever bathes in the guest bath tub.  And we are ALWAYS doing laundry in the small closet opposite this bathroom.   SO?  Yep, I swapped out the tub for laundry and I LOVE it.  Pictures are first and then ALL of the details (even the grout colors) are below.
Here are some BEFORE pictures of the guest bathroom with the bathtub we never used —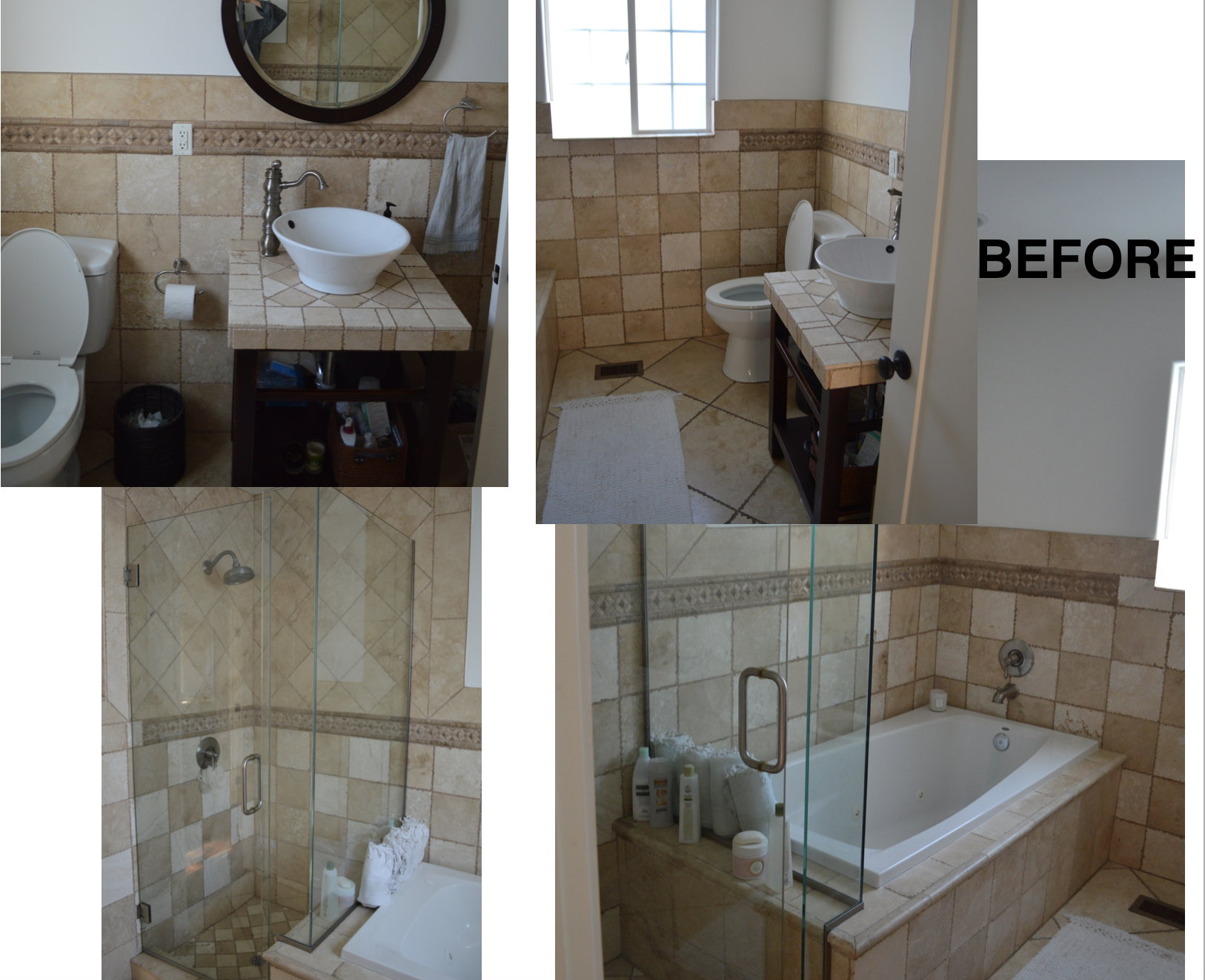 When planning the bathroom, my first priority was functionality.  We wanted laundry, a shower, sink and a toilet all to work in that room.  A close second priority was aesthetic.  I wanted this bathroom to match the rest of our house.  Earthy, modern and bright.  So I knew I needed to incorporate whites, earthy colors, wood and plants.
And here it is now – our remodeled bathroom/laundry: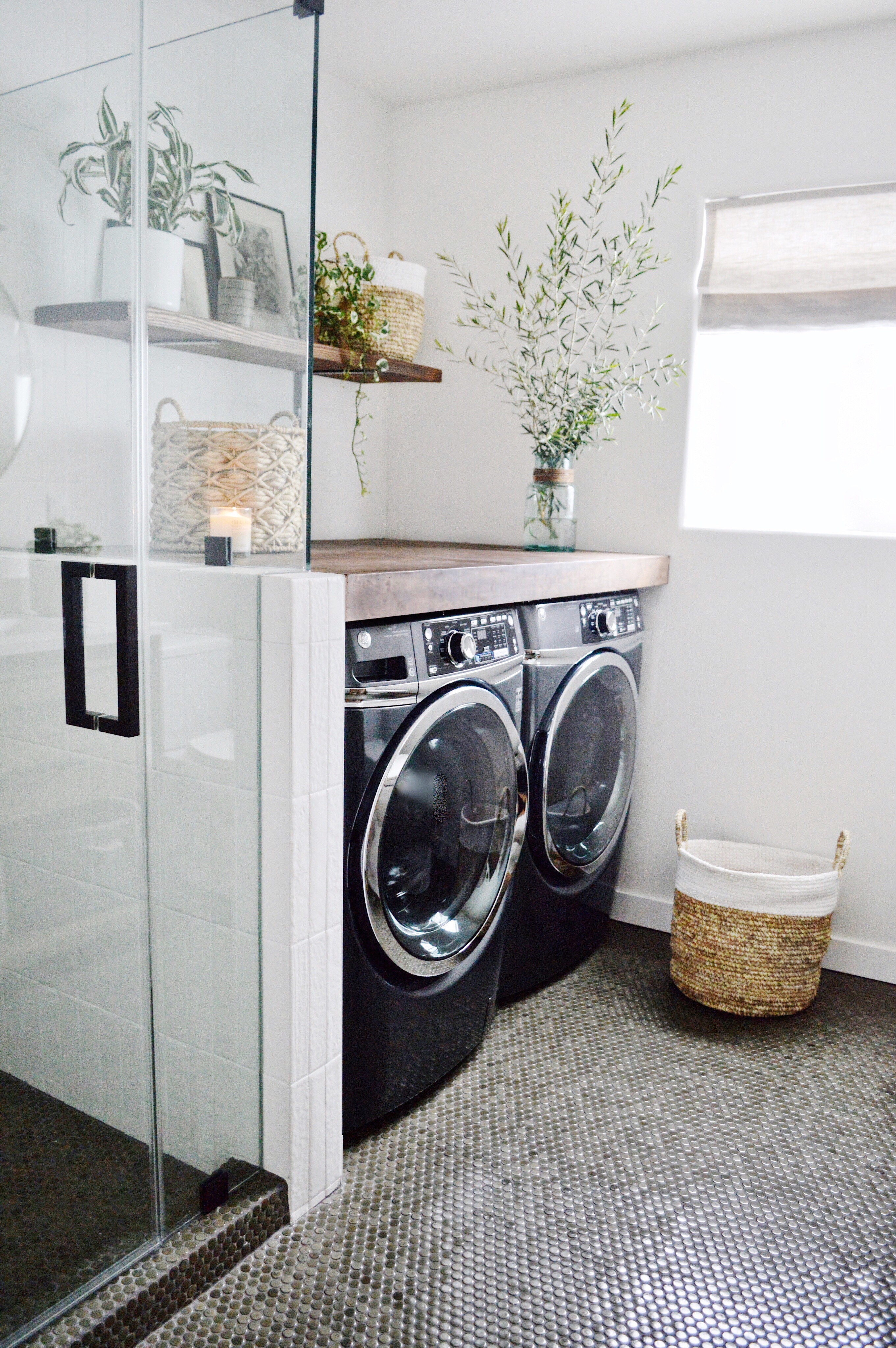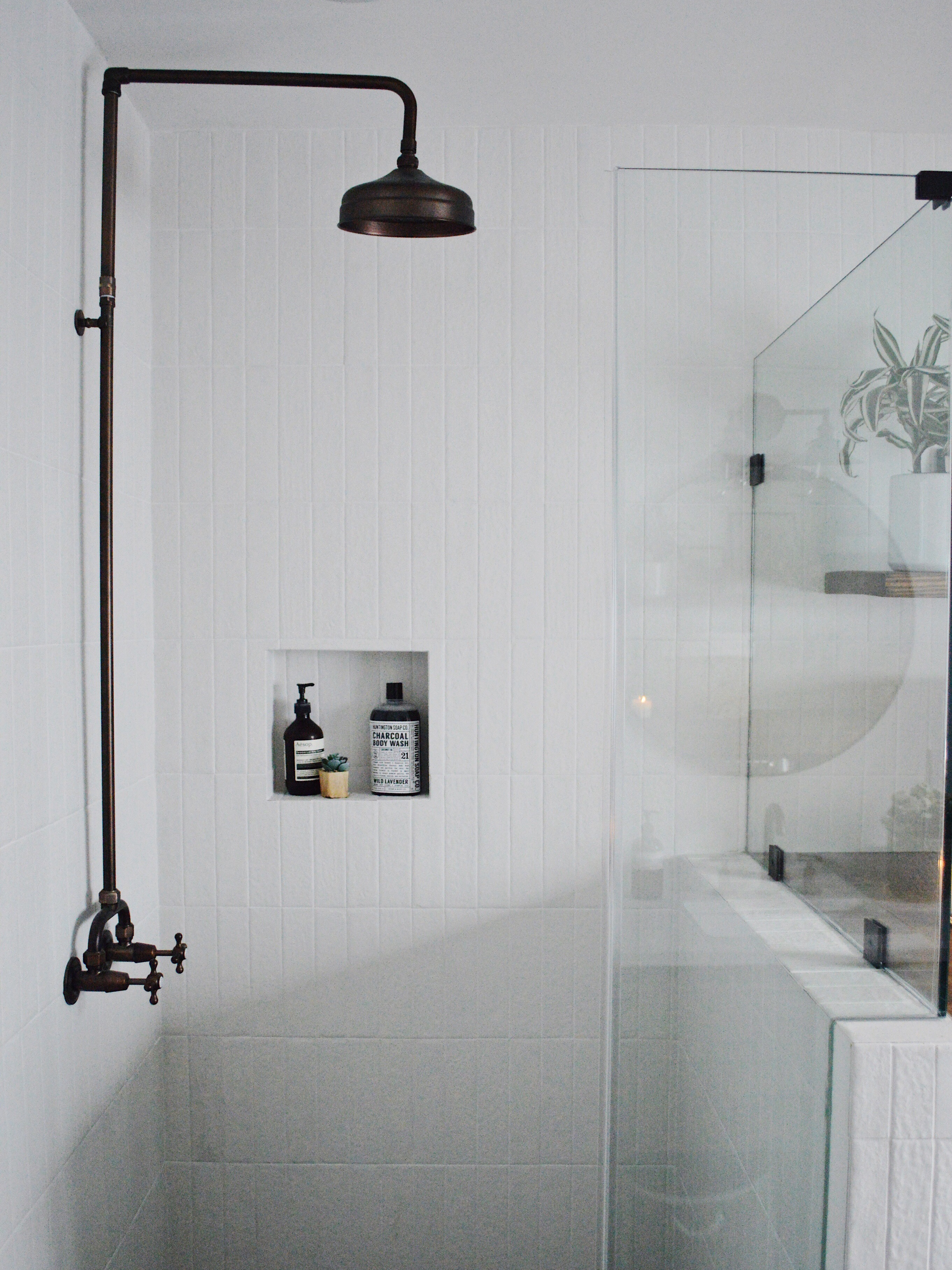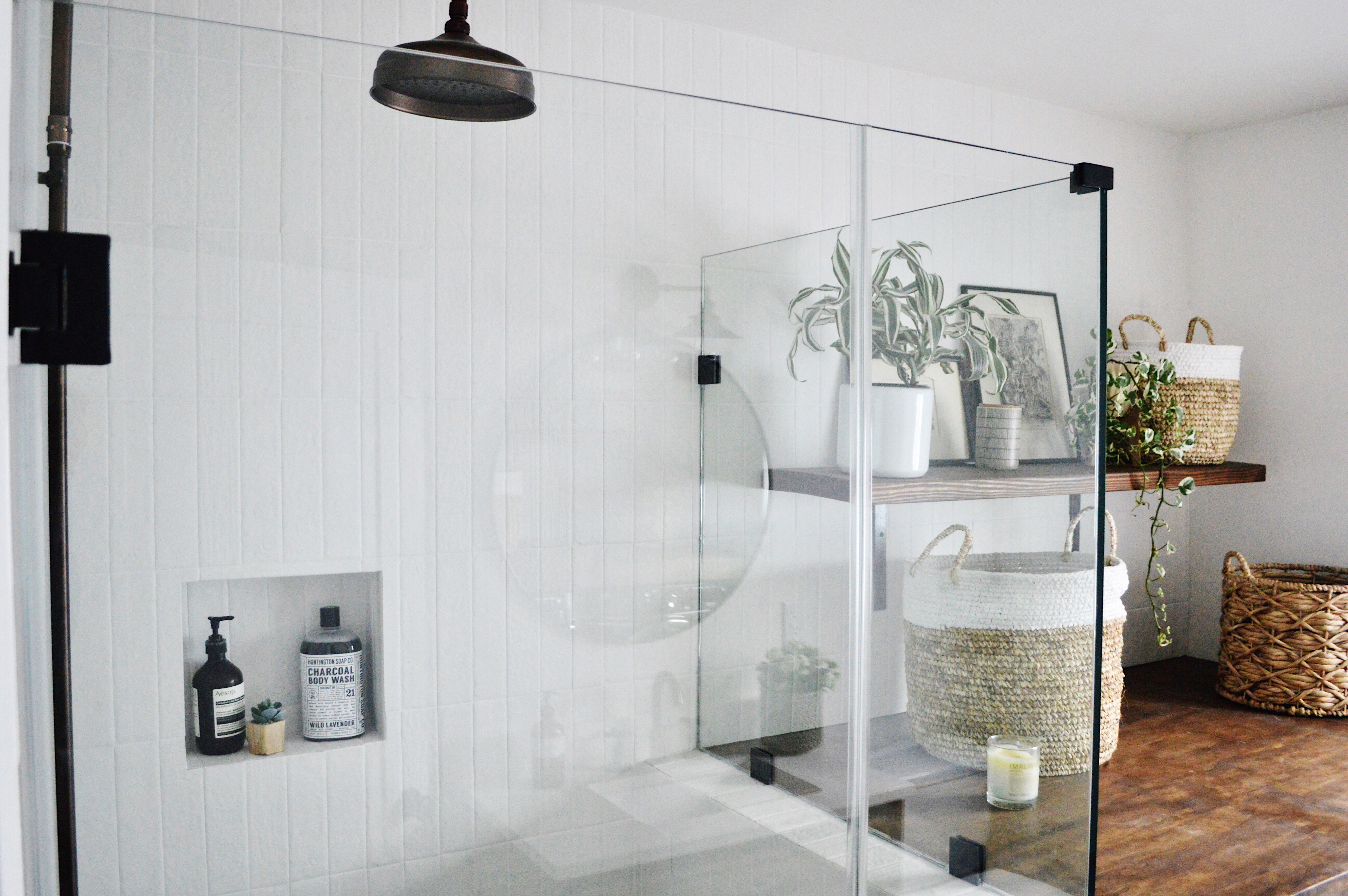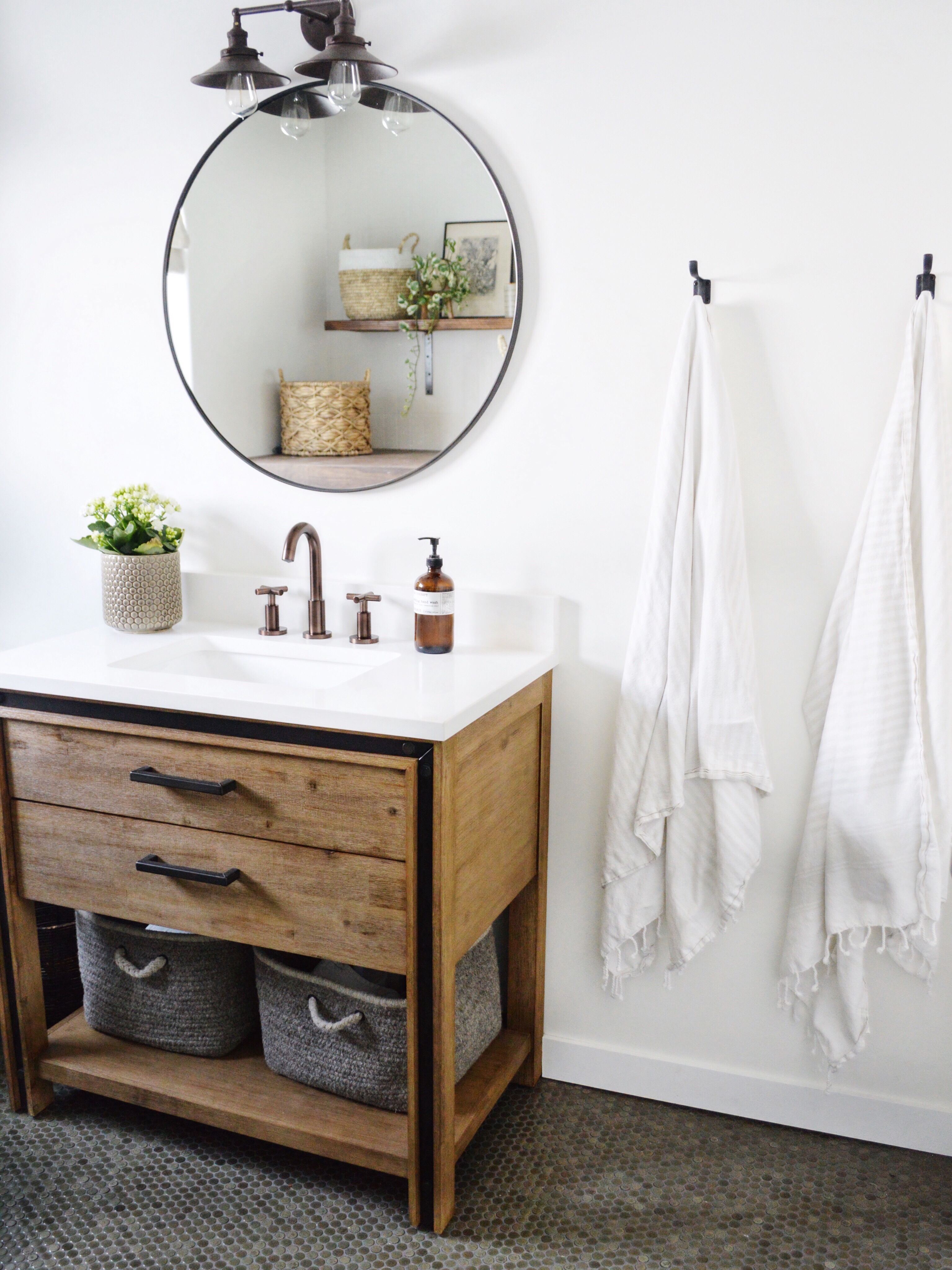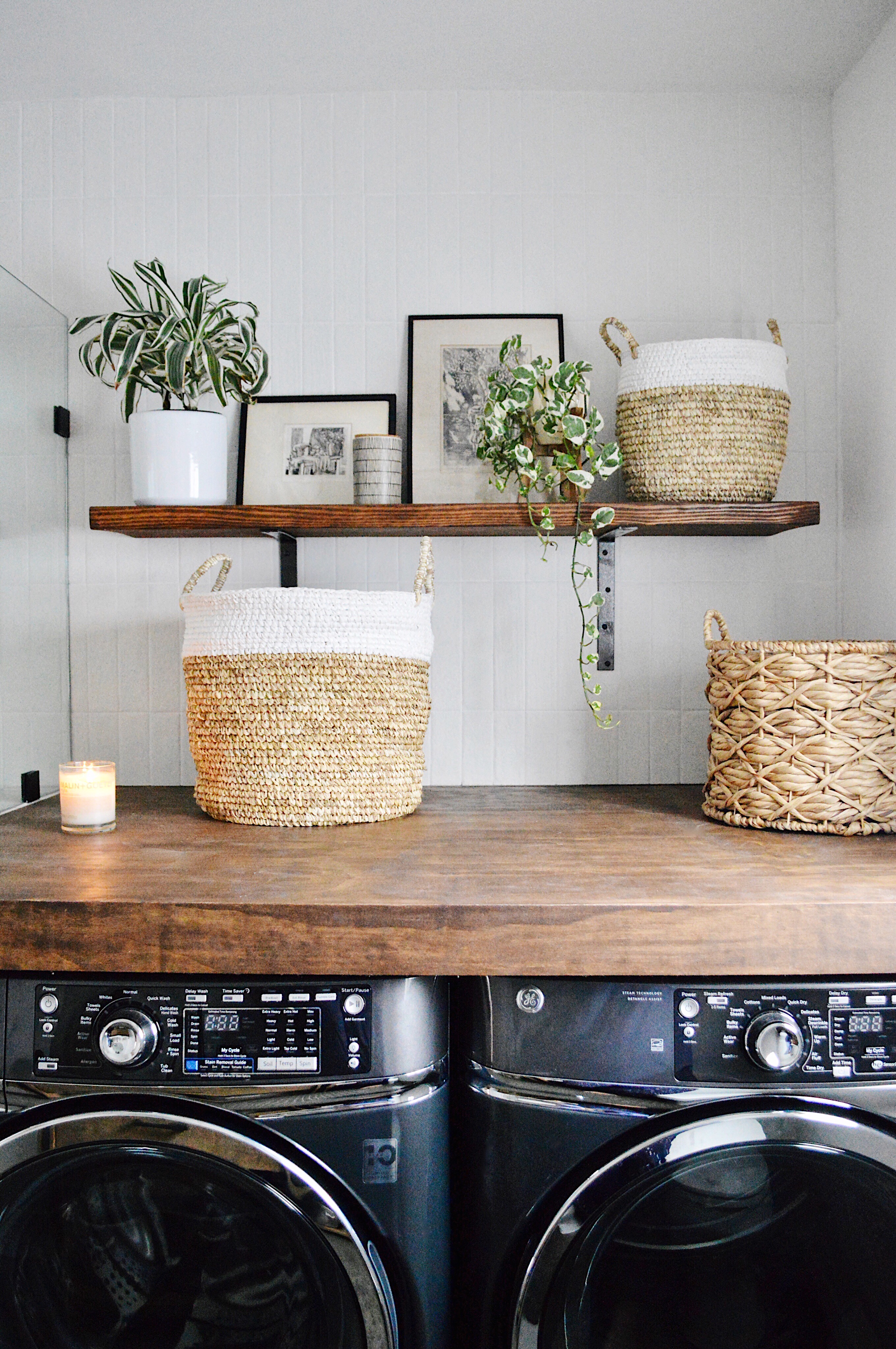 First, I want to talk about the tile.  I wanted the shower tile to run along the entire wall but I wanted something white and textured.  I partnered with Bedrosians Tile & Stone and found these amazing white textured tiles for the wall and shower.  It's their "Urbanity" tile in white (size is 2.5″x10″).  Click here for the link (note- tiles are whiter in person than picture).  Click here for the grout.  Given the white walls, which is a consistent theme through-out our home, I wanted the floors to pop in an earthy color.  I chose a lovely penny tile from Bedrosians in shale. Click here for the link.  I am obsessed with it.  It's such a gorgeous penny tile — each little tile is unique.   I used a dark grout color, which blends beautifully with these unique penny tiles.   Click here for the grout.
I partnered with Signature Hardware for the vanity (which comes with a counter of your choice and a sink), the amazing exposed pipe shower faucet and the sink faucet.   I am thrilled with the quality and look of everything!  The vanity adds the perfect pop of wood to that side of the room.  And, I love how the oil rubbed bronze finish of the faucets pops off the white.  Click here for vanity, here for shower faucet and here for sink faucet.
I partnered with GE Appliances for the GORGEOUS charcoal grey washer and dryer.  I love how they blend nicely with the floor and look so rich in the room.  And you GUYSSSS — these machines are a dream.  They are huge and work so well and quietly!  Click here for the washer and here for the dryer.
I partnered with Barn & Willow and chose the gorgeous natural roman shade that adds the perfect amount of organic texture to the window/white wall.  Click here for the link.  And enjoy 10% off any product with this code BWxKDIONDESIGN.  
The wood counter over the washer and dryer is a dream come true for me.  I now have a convenient place to fold laundry and it looks pretty too,  The BEST PART?  It is a plywood hack.  I looked into buying butcher block for this space but it was going to cost over $1000.  My contractor helped me create this butcher block look with plywood and we stained it exactly how we wanted it (harder to do with butcher block which often comes pre-stained).   The wood shelf is also a DIY.  Simply buy wood at home depot, cut to desired size, stain and hang with brackets (spray paint to desired color.  Here is what you will need: (1) wood for shelf (buy a 2in x 8in x 8ft and cut down to size and stain it desired color (2) brackets and (3) spray paint.
The shower glass and hardware is by a local company called NoHo Glass and their email is nohoglass@gmail.com.  I also used them for our master bathroom.  They are professional, quick and super easy to work with.  I highly recommend them if you live in SoCal.
After the construction, I had a fun time styling the bathroom.  Thanks to AllModern, I chose the following products to style the bathroom.   For the woven baskets (great for hiding laundry and detergent), click here.  For the lovely "penny tile" inspired planter, click here.  For the baskets under the vanity, click here.
I sourced the framed pictures at a thrift store for a few dollars each.  Click here for the mirror and here for the sconce.
I'm working on the perfect rug and will keep you posted.
Thanks for stopping by and I hope you like this reveal!  While this post is sponsored by all companies mentioned above, all the thoughts and opinions are my own.
xoxo,
Kristin