December 4, 2016
gift guide: things I love that I wanted to share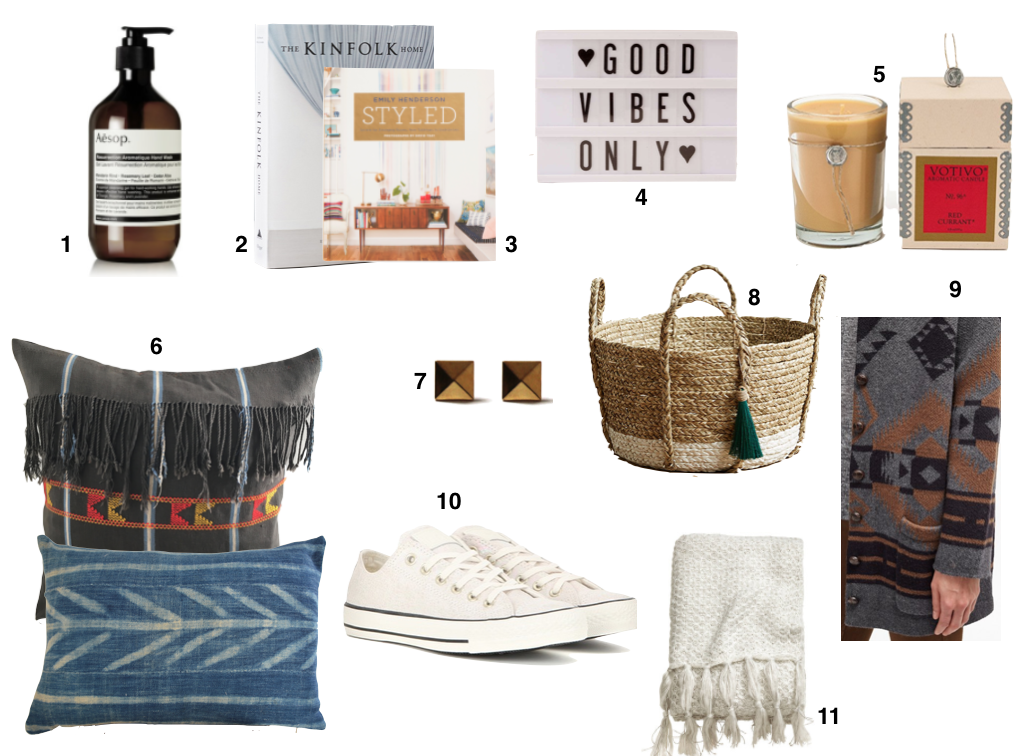 Just in case you and I have a similar style, I thought I would share some of my favorite things that also make awesome gifts!  Many of these items are for around the house — you probably know by now that I love home decor.  But I also love casual comfort for my personal style so I'm mixing in a little of that as well.   Happy shopping!
1 
I'm pretty obsessed with this aesop hand soap.  It's pricey for soap but it's soooooo good and also looks sooooo good staged in a kitchen or bathroom.
2/3
These are two of my favorite coffee table books.  They both have gorgeous pictures, excellent content and they look beautiful sitting around the house too.   Kinfolk and Styled.
4
I recently came across this mini LED light sign from Urban Outfitter when working on an e-design for a dining room.  How cute is this?!  It comes with 72 letters and symbols you can arrange however you'd like.  Love.
5
My. favorite. candle. ever.  It's been my favorite for years and never disappoints.  Here is an amazon link I found so you can have it ASAP.
6
Well . . . I'm bias . . . because I make them.  But I love these pillows and think they make a great addition to any room and would make a nice gift as well.  You can purchase them on my etsy shop.
7
I've been enjoying my simple brass stud earrings these days.  My friend Beth makes gorgeous jewelry, including these $16 studs.  
8
Baskets always come in handy.  Storage, planter, toys, etc.  I love this one from Anthropologie for its texture, color and tassle.
9
I just bought this sweater coat by French Connection from Bloomingdales during their friends & family sale.  I wear it all the time.  So cozy.  The sale is on until December 11!
10
I live in converse.  Simply the best.  So classic and comfy.
11
Simple glittery blanket that doesn't break the bank.  Yes!  This one is from H&M.  
Happy Holidays all!  Thanks for reading!!!!