October 24, 2019
My Dream Master Bedroom — all the deets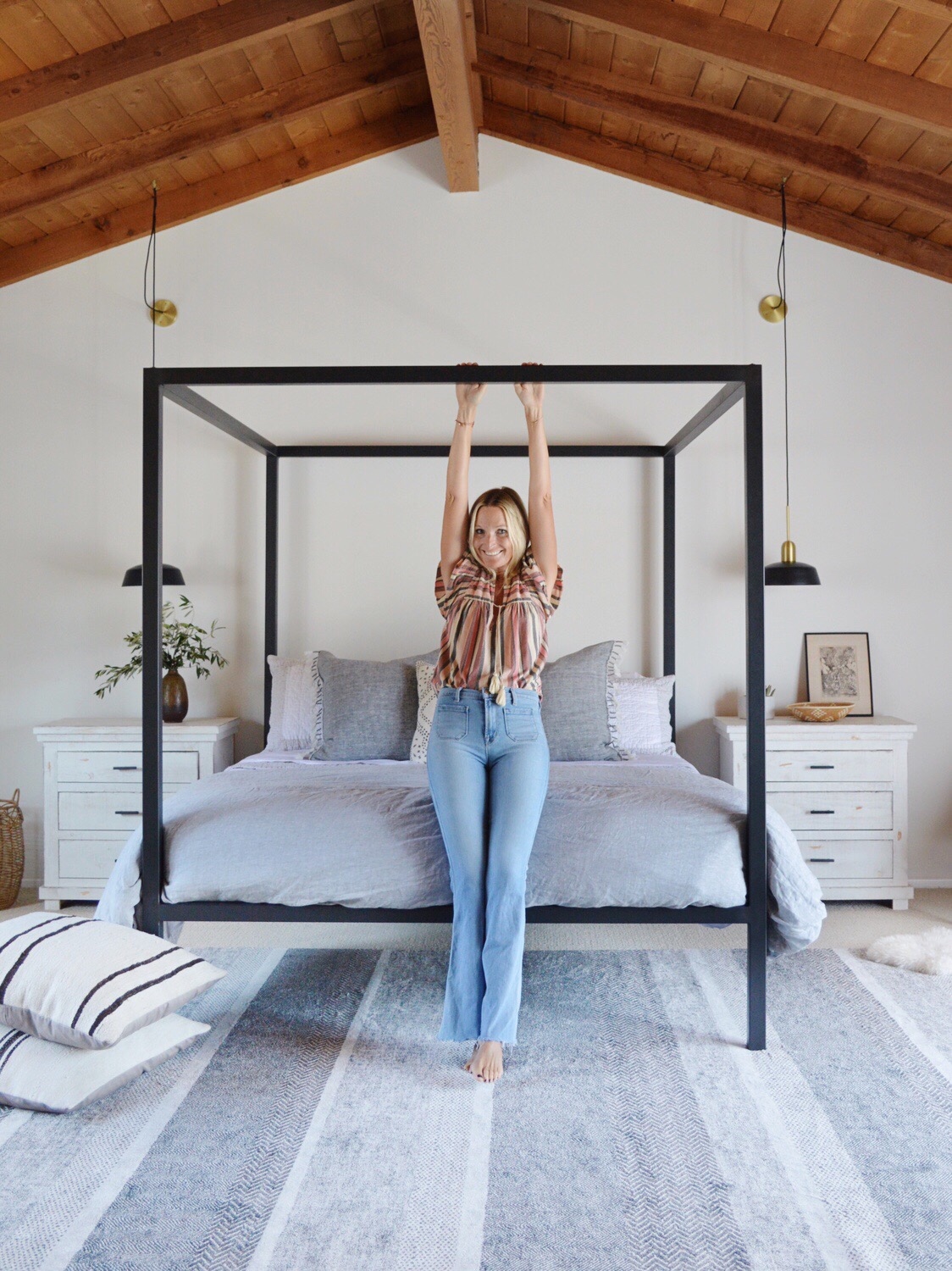 Welcome to my dream master bedroom!  Thanks for visiting and here are all the details!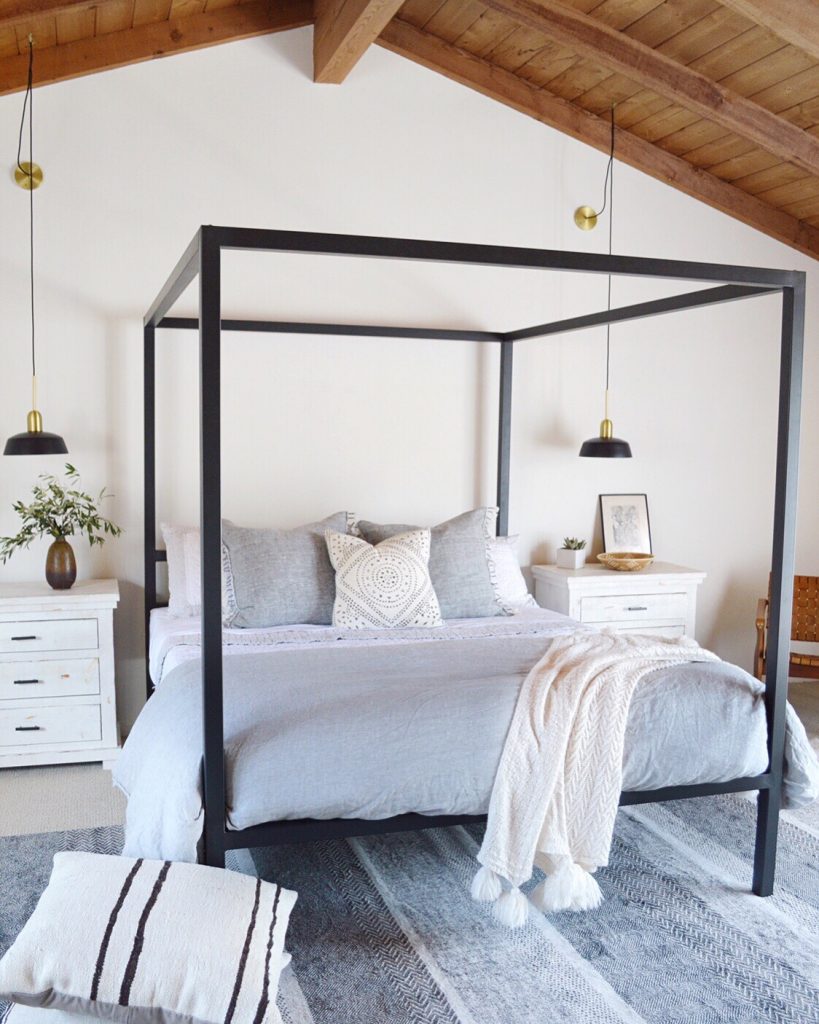 Bedding
I'm going to start with the bedding because it's arguably one of the most important aspects of any bedroom!  I like my bedding to feel like a luxury hotel – crisp, clean and super comfy.   I went with Serena & Lily to achieve this goal and WOW I LOVE our bedding!  For me, the success to a beautifully made bed is layers. AND GUESS WHAT? Bedding and beds are up to 30% off until October 28th during Serena & Lily's Sleep Well Event! Here are the layers I chose:

Rug
We have wall to wall carpet in our bedroom.  When we remodel, I plan on installing hardwood flooring.  BUT wall-to-wall carpet is NOT stopping me from adding an accent rug!  I went with the Dugginsville Area Rug from Boutique Rugs.  This 9×12 rug is on sale for only $508!  Such a deal!

Lighting
The previous owners, hung sconces in this bedroom.   Since we plan on remodeling, I did not want to spend money on labor in here.  So I searched for the perfect pendant lights that I could hang from the same electrical spot.   These Meadowlark 11″ Luxe Cord pendants from Cedar & Moss are typically used in kitchens but I think they look super perfect in our bedroom.  What do you guys think?!  
Bedside Tables
I bought these bedside tables – the Castagnier 3 Drawer Nightstand –  several years ago for our bedroom in our old house.   But they totally work in here too!   I switched out the hardware to these pulls for a more modern look.
Bed 
I searched and searched for the perfect canopy bed.   I finally found our bed from Room & Board.  I loved it SO much I purchased it the day I found it.  I just knew it would be perfect.   Our is a California King in the "tall" version.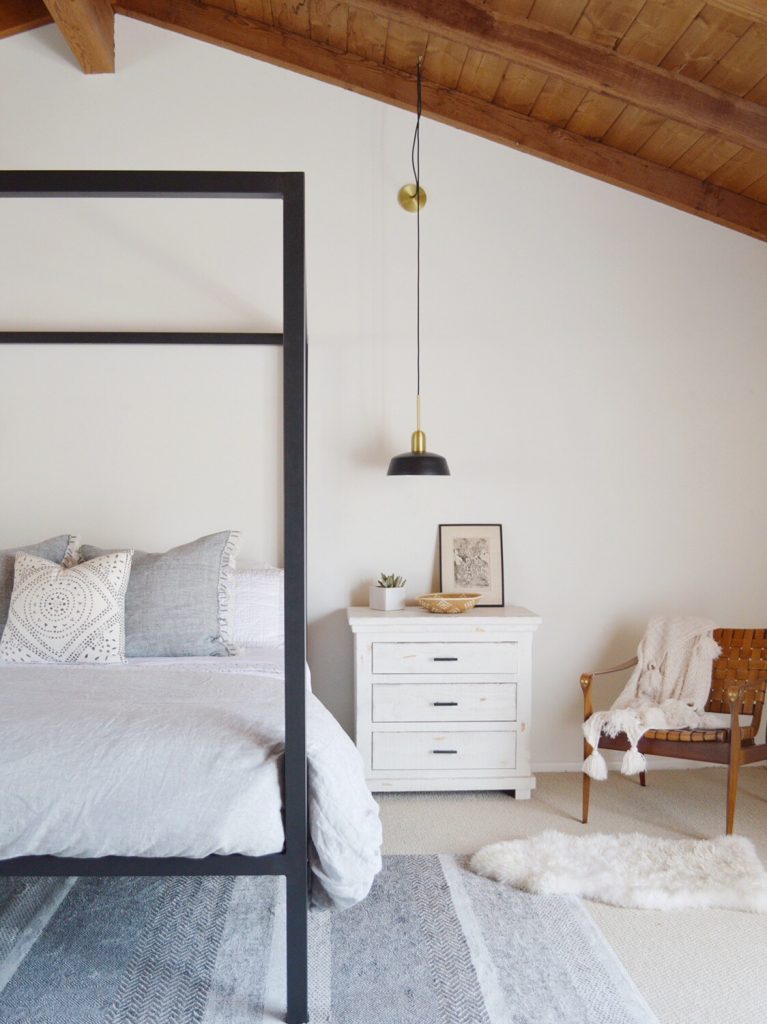 Side Chair 
Our bedroom chair is the Emmaline Armchair.  You've also seen it styled in our family room in our old house and our family room in our new house.  We love it!  So comfy and stylish.
For those of you interested — here are the links for my jeans and top
Thanks for visiting!  Feel free to ask me ANY questions!
xoxo,
Kristin