October 2, 2017
Tegan's big girl bedroom reveal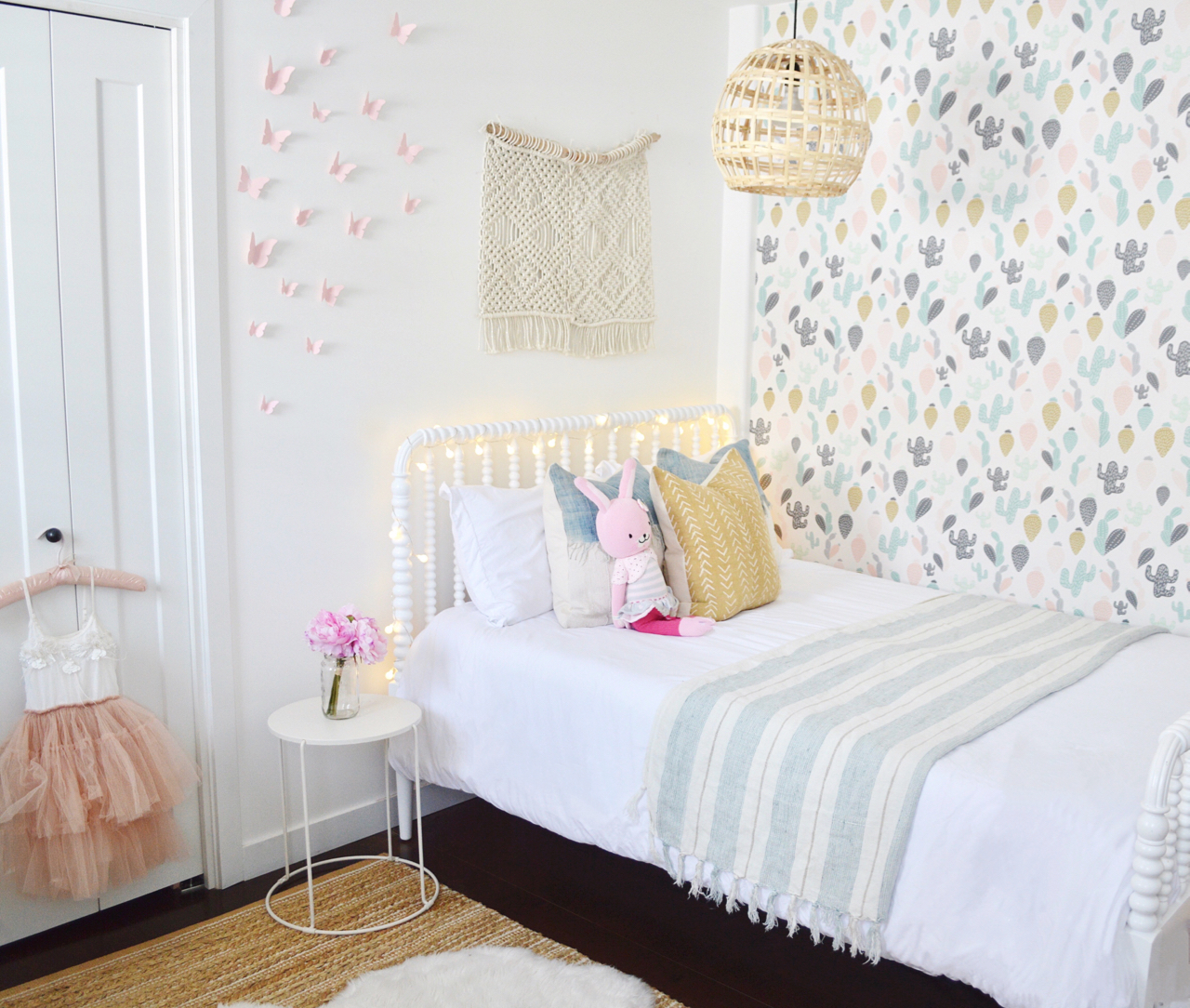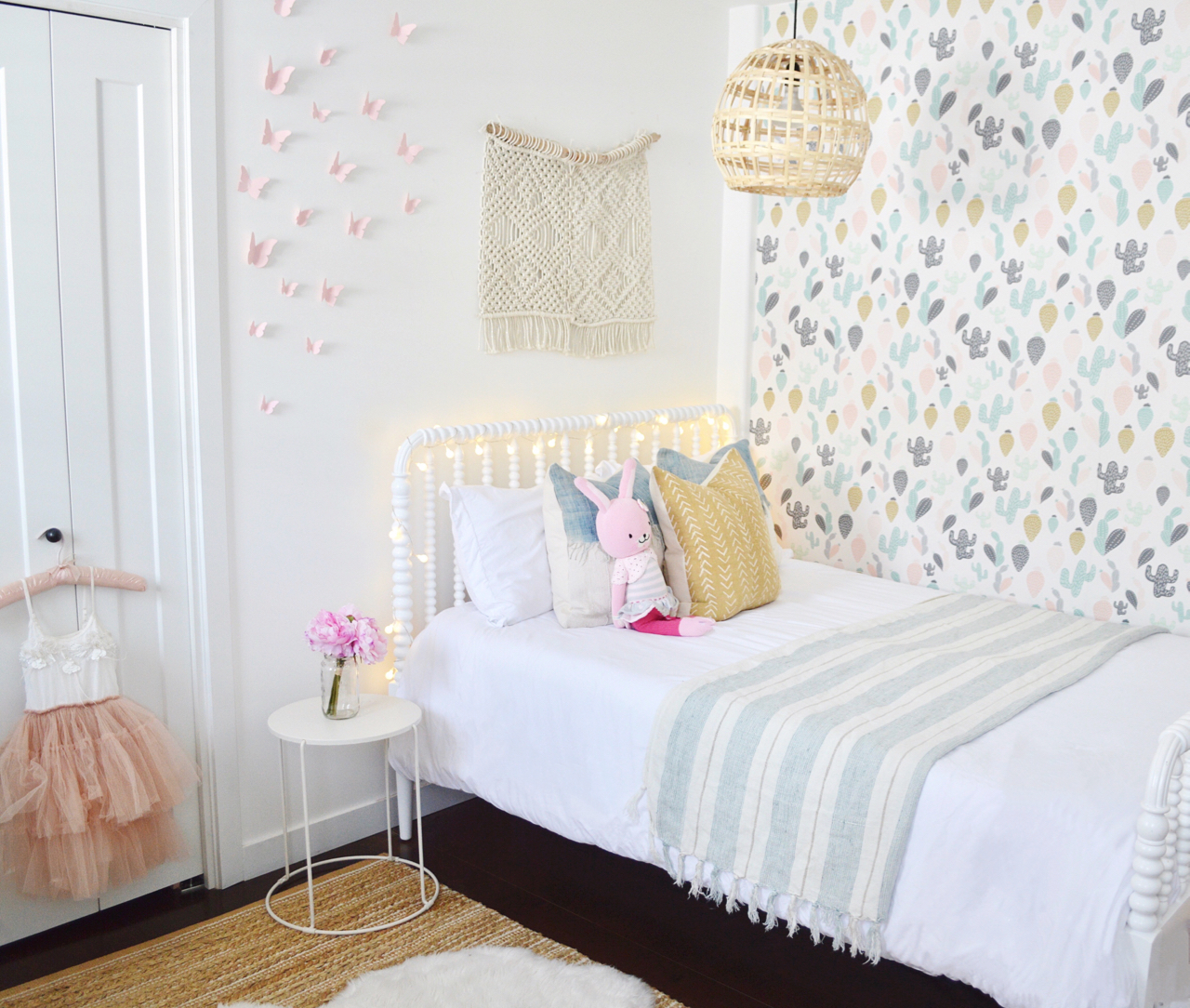 Welcome to Tegan's new "big girl" bedroom.  I think she's like me and has inherited the itch to change up her space every couple of years.  So we did.  The wallpaper is the star of the room, in my opinion.  It's removable and super easy to apply.  The cactus theme is pretty mature and should last her a few years . . . but if we want to change it up, it is so easy to take down!  The butterflies used to be the focal part of her accent wall but they were a little juvenile and she only wanted to keep a few.  Over her bed, we wanted to incorporate art but not art that could fall (in an earthquake) and hurt her.  So we hung a lightweight wall hanging that I made by stringing together two placemats from Home Goods and tied it to a piece of driftwood Tegan found on a recent camping trip.  Her bed is a couple years old and we are still as in love with it as the day we bought it.  It is a double size and will last her many years.  The woven rattan pendant light, from Eclectic Goods (SUCH a good online shop) is a really cool accent.  It provides fun texture and eye candy and Tegan LOVES it.   The lights wrapped around her bed were a last minute addition due to her recent fear of monsters in the middle of the night.  🙂 The linen blanket is from Fig in Ojai, CA.  The vintage pillows are made by me and some similar may still be available in my shop.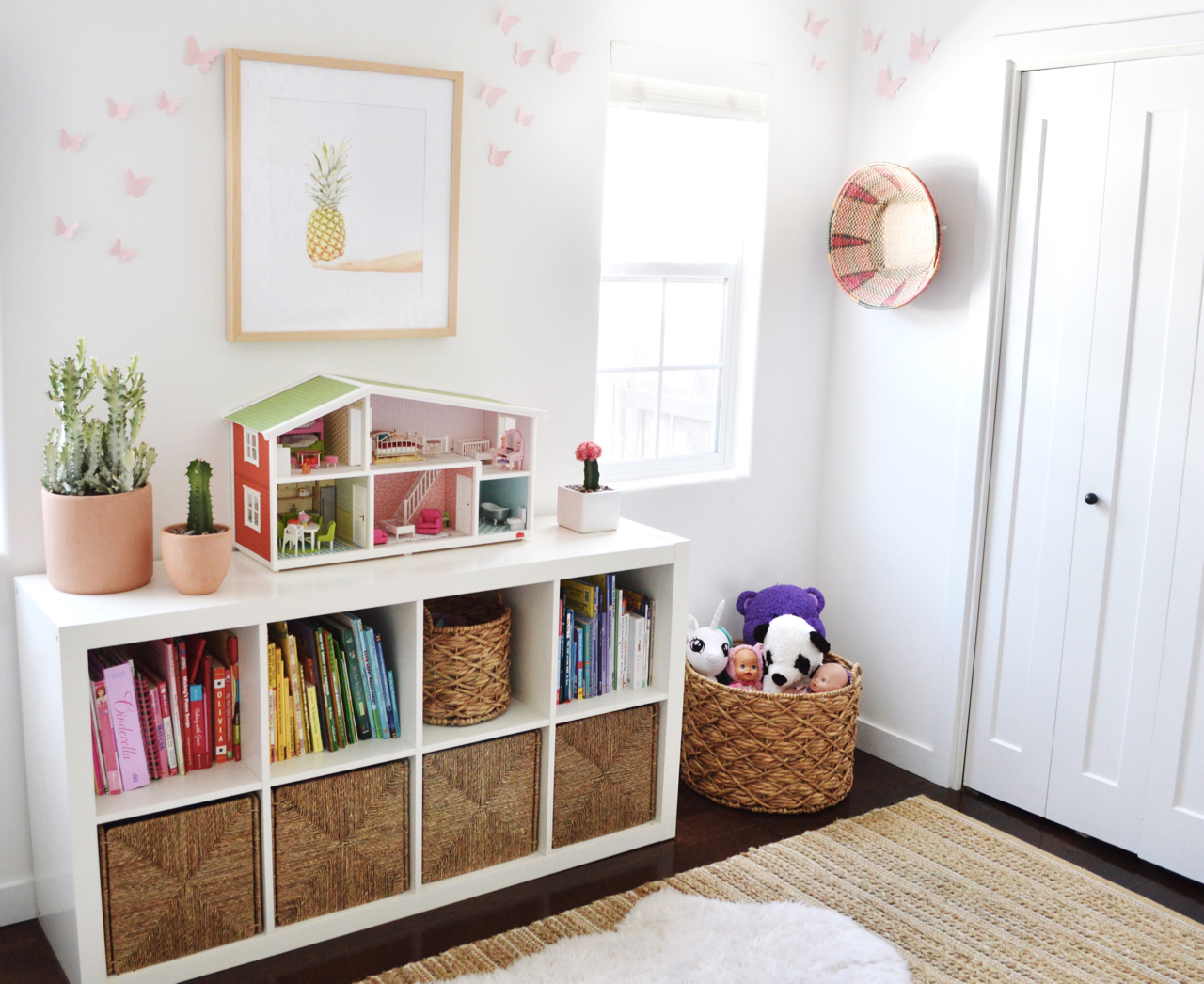 Opposite her bed is this wall, containing many of her toys and books.  When organizing, I'm a huge fan of trying to find a place for everything, so that when cleaning up, there is an obvious place for each toy.  Each basket in this bookshelf has a purpose:  (1)  small figurine toys, (2) building blocks, (3) crafts and (4) doll and dollhouse accessories.   We organized the books together in rainbow order, which was a fun project and stays in order because she can easily color coordinate.  The large basket in the corner, from Home Goods, is the perfect catch-all for the bigger toys and stuffed animals.  For decor, I added succulents/cactus to go with the wallpaper theme.  The pineapple picture was staged by me and taken by my son.  We all agreed that a pineapple was appropriate for her room. Much like her, a pineapple wears a crown, stands tall and is super sweet.  Framebridge framed it for me.  BEST customer service and such an easy and successful process. Click here to check them out.   I highly recommend them for your framing needs.  Use code kristindion15 for 15% off your next Framebridge order!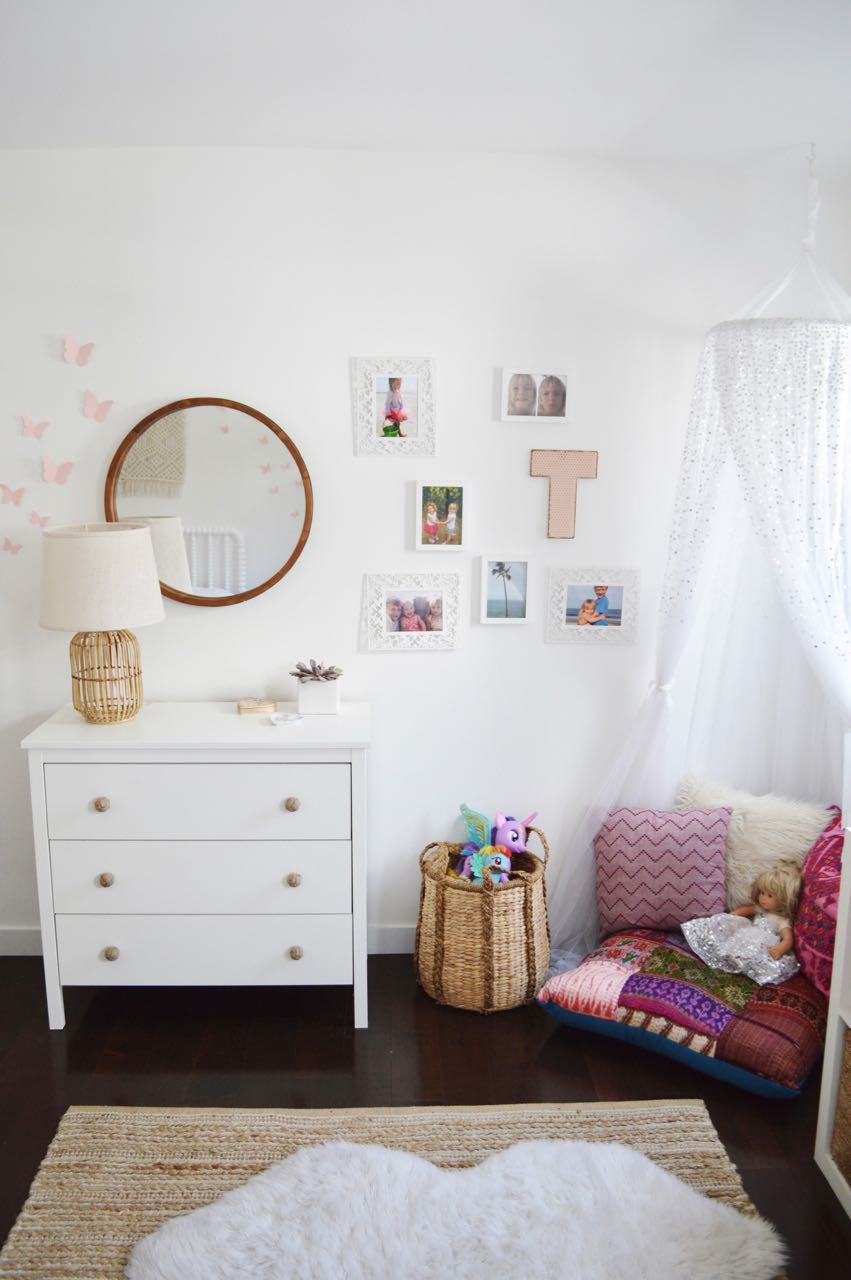 The last wall in her room contains her dresser, another catch-all toy basket and her "peace corner."   The dresser is an ikea dresser – simple and practical.  I changed the knobs to make it blend better with her room.  The lamp was another new addition to go with the more natural feeling and elements of the room.   With the wall decor, I went with a gallery wall, thinking that it will be fun for her to change out the pictures from time to time.  The mirror is from Target and the frames are from Ikea.  Her school is big on "peace corners" to provide the children with a safe place to go when they are experiencing "big feelings."  We love the idea and have adopted it at home.  She sits in her to calm down, to look at books, or just to play with her babies.  The canopy is from Pottery Barn kids and the big pillow is from World Market.    I layered the jute rug with a faux sheepskin for comfort.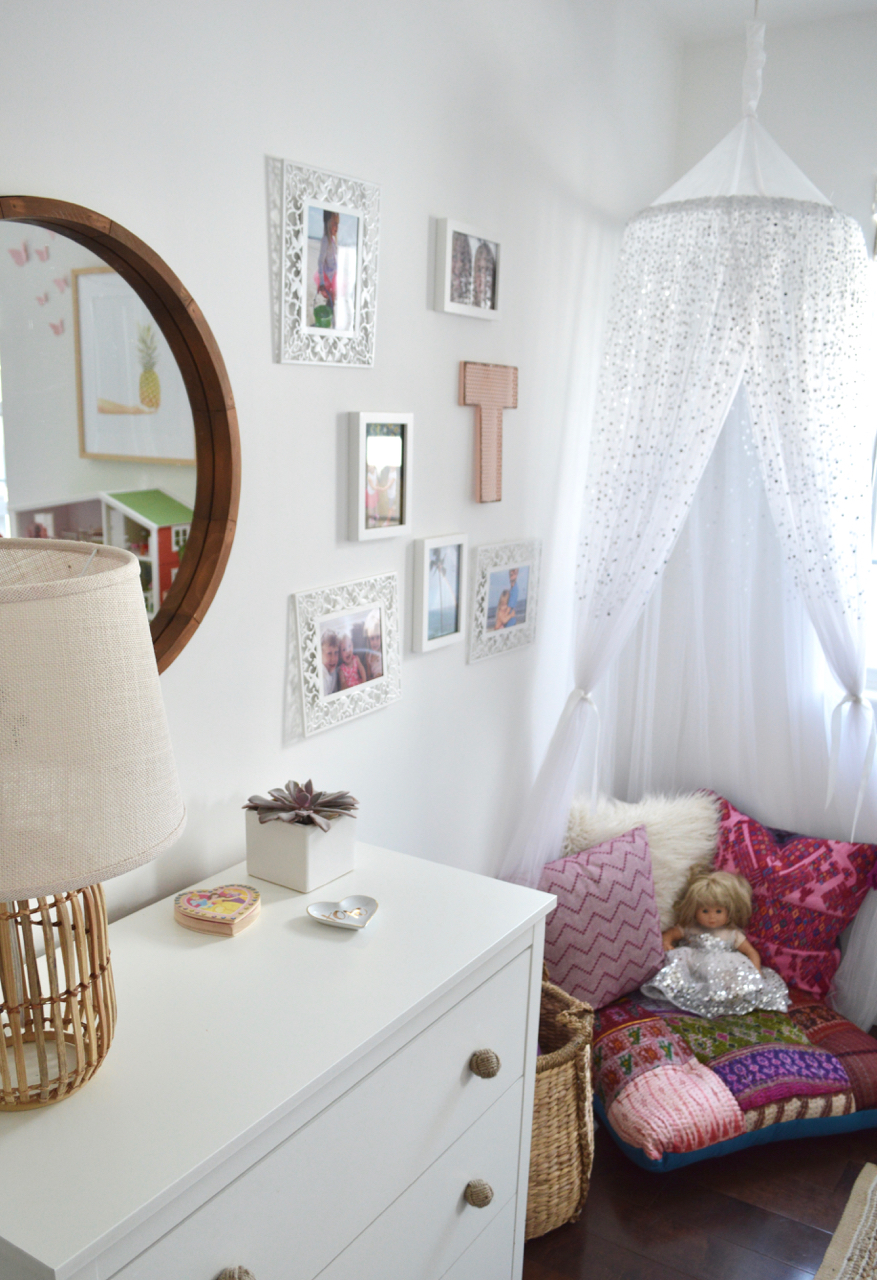 and that's a wrap!  Thanks for stopping by!  Now… I have to get going on my son's room makeover.  🙂